All-Senior Mock Trial Team Qualifies for State
Out of nine teams, MSMS Mock Trial Team qualified for state competition through the Oxford Regional Mock Trial competition on Saturday, February 2.
The competition consisted of two rounds judged by legal professionals from across Mississippi. MSMS competed in the bye round against Starkville Academy Team A and the second round against Oxford High School Team A. The teams were judged based on witness presentation, direct- and cross-examination, opening and closing statements, and team points. The MSMS team won both of its rounds.
Samantha Anderson, Taniya Bland, Kelsey Hollingsworth, Victoria Gong, Powers Lamb, Peter Nguyen, and Mia Parker, participated this year, having taken the Mock Trial course their junior year. Mock Trial did not serve as a credit-awarding class as in the past. Several students earned votes for effectiveness in their roles. Nguyen earned three votes from three judges for "Most Effective Witness." Lamb earned three votes from three judges for "Most Effective Attorney" as well.
"I enjoyed doing it. I felt more comfortable this year than last year," said Lamb.
Scott Colom, MSMS Mock Trial coach, did not intend to return to coach the team for the 2018-2019 school year. However, due to efforts made by students, Colom returned to coach the team for a final year, allowing only previously-experienced seniors to participate.
Mock Trial practice was rigorous, ramping up in the weeks before Competition.
"The few practices leading up to competition were pretty hard because we were expected to stay in character and do the whole trial like we would at Competition, but we were not prepared enough to do that," said Gong, who portrayed a lawyer and a witness.
Senior Victoria Waller visited Oxford to support the team.
"I originally went to see the love of my life, Victoria Gong, because I had never seen her do Mock Trial before. But instead of just staying for the first round, I stayed for the second because I found it was really fun to watch," said Waller.
The state Mock Trial competition will be held March 1 and 2 in Jackson, Miss.
Hang on for a minute...we're trying to find some more stories you might like.
About the Writer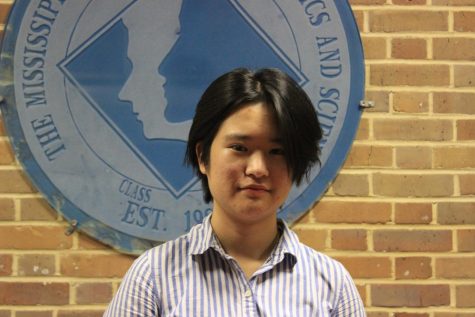 Michelle Luo, Web Editor
Michelle Luo is a senior at MSMS and the Web Editor of The Vision. The broad spectrum of her interests range from mechanical engineering to creative writing....