Ariana Robinson: a Service Woman
A fun-loving free spirit who appreciates the small things in life, Ariana Robinson loves to live her life to fullest with the people she cares about the most. Hailing from Quitman, Mississippi, thirty minutes south of Meridian, she has brought many gifts and passions, including her love for service and community, to MSMS.
"I am a part of Mu Alpha Theta and Black Student Alliance—well we're at the Mississippi School for Math and Science, so it's like a no brainer to be in Mu Alpha Theta. I did it at my old school as well so I wanted to continue it here. With Black Student Alliance I always wanted to learn and be around people like me and I just want to have a heartfelt moment sometimes," says Robinson.
Not only is Robinson involved in these clubs but she also mentors at the Boys and Girls Club in Columbus.
"I really like to tutor and help little children and I do some mentoring on the side at home. I really enjoy playing around with kids, like I'm their big sister," Robinson says excitedly.
Robinson often does community service on holidays. Over Christmas break, Robinson participates in the Angel on a Tree where young children in need write things they want on an Angel and place it on a tree in hopes someone like Robinson picks it up and fulfills their Christmas dreams. Robinson also participates in the shoe box give away and donates to her local soup kitchen.
Robinson doesn't spend all her free time helping others, though. Sometimes she likes to immerse herself in a good book or just hang out with friends.
"I usually like to read about the Roman Empire and demigods and Greek mythology. I really like making fun and memories with my friends. Not to say I'm big on MSMS traditions, but I kind of like some of the traditions we have. Some of the parties we've had were great for bonding with these people," Robinson. divulges
"
I really like to tutor and help little children. "
— Ariana Robinson
Sadly MSMS doesn't offer all the things Robinson use to participate in at her old school, but she has had fun becoming involved in new things here at MSMS.
"I used to play basketball and softball at my old school. Freshman year my basketball team won the 4A state championship. I was in [track and] field, shotput and discus. I didn't do powerlifting at my old school because we didn't have a girls team but thankfully I got to do it at MSMS."
Robinson also has the dream of attending Louisiana Tech, and she plans to eventually become a chemical engineer. According to Robinson, she was an exploring child; for fun, she often would mix things together in order to form strange concoctions . If chemical engineering doesn't work out, Robinson plans to become a chef because she also loves to cook.
Hang on for a minute...we're trying to find some more stories you might like.
About the Writer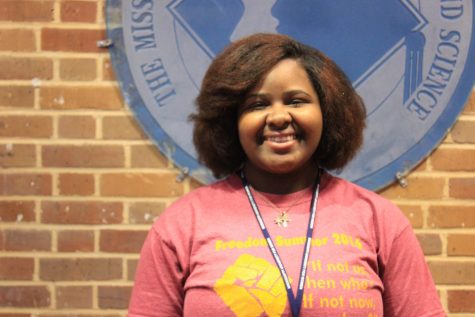 Jessikah Morton, Social Media Assistant
Jessikah Morton is a senior here at MSMS. She is a part of the social media section of The Vision. She is in BSA, Blue Diamondz, Spirit Squad, and she...