Dramatic Performance Presents 'The Pretty Trap' By Tennessee Williams
On Wednesday, Dec. 5, the dramatic performance class, instructed by Dr. Thomas Easterling, performed  "The Pretty Trap," a one-act comedy by Tennessee Williams, which was directed by senior Jacob Lee. Before the play, Lee gave the audience a portion of history about it.
Then, the play officially began with Mia Parker as a southern belle named Amanda Wingfield and Victoria Waller as the daughter of Amanda, Laura Wingfield.
Jacob Lee had a lot of fun directing this play and seeing all of his work and his colleagues work come to fruition filled his heart with joy and satisfaction.
"We had a lot of table readings at the beginning, and then once we got on the stage there were a few bumps like blocking and inflections and just their own actions as characters. Honestly, up until a couple of nights ago, I didn't think we had enough practice, but we put a lot of work in in the past week and a half. It took a lot but we got there."
In the play, Amanda Wingfield prepared for her son Tom Wingfield, played by August Andre, to return home with his friend Jim Delaney, played by Taylor Shamblin. In the midst of preparing her home for her son and her son's friend, she also prepared her daughter.
The mother seemed to have beliefs cemented in young beauty and preserving her daughter's by forcing her into a relationship with Mr. Delaney. In order for this play to be interesting, I think it's more than obvious that the daughter did not share those same feelings.
Once Mr. Delaney and Tom Wingfield arrived, Amanda Wingfield threw herself at the eligible bachelor who was initially supposed to be for her daughter. This is really where the comedy of the play shined through. 
"
Like loud, funny, crazy, bossy—that's easy to do. But when I have to like actually act instead of just be a fool, it's hard."
— Victoria Waller
Imagine an up in age woman chasing after her daughter's boyfriend while speaking about her late husband, whom she keeps a painting of in her living room. This image basically describes the relationship Amanda established with Mr. Delaney, but Mr. Delaney did not reciprocate those feelings. That painting of Amanda Wingfield's late husband was provided by MSMS's former art teacher, Ms. Angie Jones. There were many other pieces provided by Ms. Jones on the stage that created a realistic home setting for a family like the Wingfields.
The family plus their guest sat down to an almost impossible meal to get through. The mother often made snide remarks about her children being "good for nothing" which opened doors for many comical opportunities.
Then, all of the sudden Shackleford Auditorium went completely dark. I was shocked and thought there was something actually wrong with the lights, but when the show continued on, I quickly realized that this was not the case. The lights were dim and shined weakly at the actors on stage which not only made the scene more believable but also helped the hot and steaminess of this particular scene. The wonderful lighting effects were generated by senior Arin Kelly.
The last scene of the play was the spiciest and the most unexpected. Mr. Delaney and Laura Wingfield are eventually left alone to speak amongst themselves, and as you could imagine as quickly as the lights turned on and off, it was as quick as Delaney and Laura fell in love. Faithful to the play's script, Delaney and Laura shared a kiss.
Senior Victoria Waller had many concerns about kissing fellow cast member Taylor Shamblin onstage and her role as Laura Wingfield.
"It was probably like the hardest role that I have ever had to do because most of the roles I played in the past are closer to my actual personality. Like loud, funny, crazy, bossy—that's easy to do. But when I have to like actually act instead of just be a fool, it's hard."
When Waller found out that she had to lock lips with one of her colleagues, she was very apprehensive about her ability to do the scene.
"It took us so long to actually do it for the first time in rehearsal because we were just so awkward, but we finally made it work. After we got through it a few times it became a lot easier."
"The Pretty Trap" was a success despite the obstacles cast members faced, and based on the ruckus the crowd made during humorous sections, it was apparent that the MSMS students loved the performance.
"It was outstanding, I commend Mia from this Mia, she learned all those lines. That's crazy!" Mia Riddley exclaimed.
Another student, Cameron Mason, even chimed in to say that she thought this play was better than their last production, "The Great Pandemonium."
The dramatic performance class put in lots of effort in order to make this play a success, but Waller feels that the play could have been even better if more people were in the class. The dramatic performance consists of at least seven members, and Waller believes that next year more juniors should take initiative, join dramatic performance, and dramatically perform.
Hang on for a minute...we're trying to find some more stories you might like.
About the Writer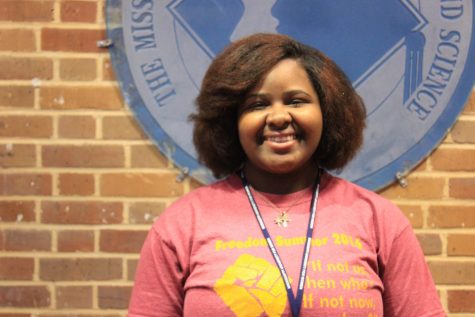 Jessikah Morton, Social Media Assistant
Jessikah Morton is a senior here at MSMS. She is a part of the social media section of The Vision. She is in BSA, Blue Diamondz, Spirit Squad, and she...