'Thank U, Next' Review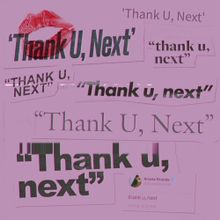 The world was swept by a storm when American singer-songwriter Ariana Grande released "Thank You, Next," almost two months after releasing her new album "Breathin." This song was a milestone for the young Ariana Grande, after the death of her ex-boyfriend Mac Miller and her breakup with Pete Davidson. Ariana Grande released her feelings about all of her exes, disclosing that she had nothing but respect and love for her exes. She also revealed that they taught her the value of loving herself. "Thank you, Next" caught the hearts of millions and you might even find yourself saying, "Thank you, next."
This song meshed the much loved Ariana Grande vocals with a calm and mellow pop beat. Its catchy beat took hearts all over the world. It also encouraged women and men alike to love themselves and to appreciate what life and their past relationships have taught them. Women all over the world now look up to Ariana Grande for her fierce passion to still continue her music, while also dwelling on her strong nature to continue even when other would've ended after all that she went through.
London Alley
The fierce pop singer-songwriter used her new song to state her stance on all of her past relationships. She also used the song to state what all of these important relationships have taught her. Throughout the song she states, "One taught me love, One taught me patience, One taught me pain / Now, I'm so amazing."
The beloved singer is known for her relationships, with pop stars and singers. Ariana Grande also takes to the song to individually state her stance on every relationship, and how she feels now. She sings, "Thought I'd end up with Sean, but he wasn't a match / Wrote some songs about Ricky, now I listen and laugh, / Even almost got married, and for Pete I'm so thankful, / Wish I could say, 'Thank you"'to Malcolm,' Cause he was an angel."
Ariana Grande also recognizes the new relationship that she is in, with herself. "Spend more time with my friends, I aint worried 'bout nothin', /  Plus I met someone else, We havin' better discussions, / I know that they say I move on to fast, but this one gon' last, / 'Cause her name is Ari, And I'm so good with that (so good with that)." She acknowledges that this one is important to her. She also recognizes that this one will last and that she knows how important it is to know and have love for herself.
Some girls and women around the world recognized this as encouragement to simply love yourself first.
Toward the end of the song, singer, Ariana Grande, tells her fans and audience what loving herself had taught her. She states, "She taught me love (love), She taught me patience (patience),  How she handles pain (pain), / That amazing (yeah, she's amazing), I've loved and I've lost (yeah, yeah), / But that's not what I see(yeah,yeah), Ain't no need for searching".
Before the song ends, Ariana Grande states her optimism for marriage in the future. This showed fans around the world that in the future she looked forward to possibly thanking here dad, "'Cause she grew from the drama." This song was an impressive addition to Ariana Grande's already abundant amount of hits.

Loading ...
Hang on for a minute...we're trying to find some more stories you might like.