Students Volunteer for Operation Christmas Child at MSMS
Last Thursday, Nov. 8, "Operation Christmas Child" was hosted for the first time at MSMS by senior Kerrigan Clark in an effort to gather toys and goodies for children. Operation Christmas Child is a community service project supported by schools, churches, and corporations throughout the nation. Individuals volunteered and collected gifts in shoeboxes prepared for children in different specific age groups.
"[Operation Christmas Child] is a nonprofit organization that basically helps allow kids in need who are in different countries and bring them Christmas presents," says Clark. "People can still donate items up to Sunday or Monday, so hopefully we will get more stuff for the children."
In preparation for Operation Christmas Child, MSMS Senior Erin Williams and Clark collected donations floor by floor and wing by wing of the Goen residence hall. Donations included small toys, pencils, or other knick-knacks that children may enjoy as presents for Christmas.
"Kerrigan went up to every floor and placed a box on each floor. I put some toys in the boxes as well." Williams states.
"You get to pick what age group and gender you want to pack the box for. Then we drop it off at our dropoff location," Clark explains. "They distribute it and send it off to different countries for the children."
The target age group for MSMS was children ages of 10 and 14. Donation items ranged from daily hygiene items to stationary school items and toys for both boys and girls.
Though it is her first time hosting one at MSMS, Clark has been doing this project for almost five years now. This was also not Williams' first time participating in Operation Christmas Child.
"I didn't do this at my old school, but my church did it. That's how I knew about it," Williams explained, "it was overall a nice experience. I think it's really nice for less fortunate kids to be able to get a present during Christmas because not everyone can get one,"
MSMS Junior Rachel Zheng participated in Operation Christmas Child at her old school.
"Operation Christmas Child is a project where people create gift boxes to send to children around the world." Zheng states, "When I created the boxes, I included pencils, lotion, toy dolls, crayons, coloring books, and a little note for the girls. In the boys' box, I would put small lego sets, pens, notebooks colored pencils, as well as a little note."
"Children should be happy during Christmas, no matter what kind of situation they're in. Operation Christmas Child allows for this to happen," Zheng said.
This event started in 1993 and has been able to allow children in need throughout the country to receive Christmas gifts during the holiday seasons.
Hang on for a minute...we're trying to find some more stories you might like.
About the Writer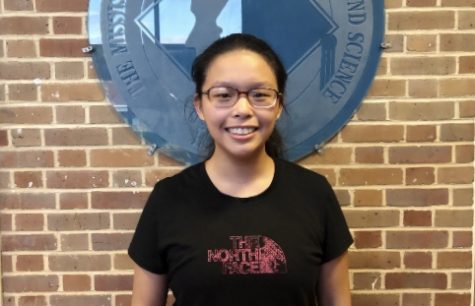 Hua Chen, Staff Writer
Hua Chen, a staff editor for The Vision, is from Lucedale, Mississippi. Currently a junior at MSMS, she spends her time stalking the media, practicing...