MSMS Family Celebrates National Ranking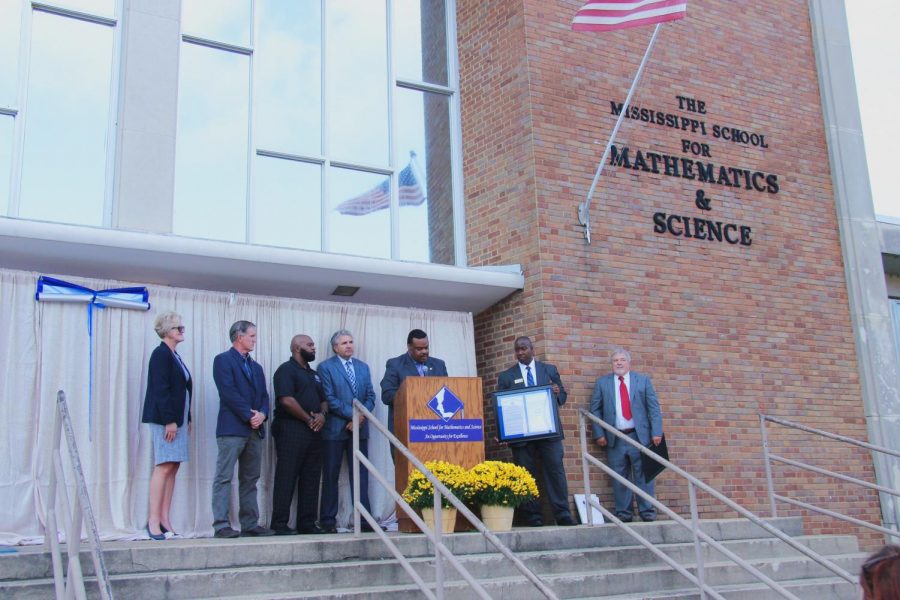 On Monday, Oct. 15, MSMS students, faculty, staff, parents, alumni and special guests gathered outside Hooper Academic Building to celebrate the announcement of the Mississippi School for Mathematics and Science ranking among the top ten public high schools in America and having the nation's best faculty for the second consecutive year, according to niche.com.
Niche is a website that gives authentic reviews in combination with meticulous analysis in order to to highlight the best schools, companies and neighborhoods. Their team of data scientists evaluate data to produce report cards, detailed profiles and rankings.
In 2014, MSMS was ranked as the #57 best public high school by the Daily Beast. In 2017, Niche gave MSMS the #8 spot. After the 2018 rankings were released over the summer, MSMS moved up two slots to the #6 public high school in the nation.
State legislators, representatives from different areas of Mississippi, city officials, senators and the MUW president were all invited to the event. The MSMS Emissaries worked diligently to ensure that the guests were properly greeted.
The celebration began Monday afternoon with the MSMS Blue Notes playing a couple of tunes to allot time for people to take their places.
Afterward, MSMS Executive Director Dr. Germain McConnell started the program by delivering a motivational speech explaining how far the school has come and how much farther it can go.
"This year, we had to celebrate. Last year, we didn't really celebrate that much," Dr. McConnell said. "This celebration was about me, the leader of this organization, stepping back and saying thank you to everybody who has a role and supported the school to make sure we can continue to be who we are. At some point, you have to take the time to let people know that you really appreciate them."
Following his speech, other MSMS faculty, current and retired, shared a few words. Mrs. Kelly Brown, Director for Academic Affairs, explained her reason why MSMS teachers were ranked #1 in the nation for two years in a row.
She says that one of the reasons MSMS teachers are the best is because the school requires all of them to have at least a master's degree; therefore, the MSMS environment corresponds to one of a college setting. "Another thing that makes them stand out to me is their persistence," Brown added. "They never quit teaching or trying to educate. They see that as their calling in life to help students understand, and they don't quit learning themselves."
Brown also says the country is just realizing what MSMS has to offer.
"There are some initiatives that we have started that are different, but MSMS has always tried to determine what is best for the state of Mississippi and the students over the years we've been in existence, so even though we're doing new things, it is not new that we try new things," she explained.
Continuing the program, the banner releasing ceremony began. Alumni of MSMS gave inspirational and slightly comedic speeches on their experience at MSMS and how far it has come. They released the banners for previous rankings.
With Samantha Anderson releasing the banner for the current ranking, SGA President Lori Feng delivered a speech that explained her love for MSMS and the opportunities it has presented to her.
"I just thought about moments where I was kind of reminded of just how wonderful and unique of an opportunity that MSMS is," Feng said "This summer when I was at the FBLA national competition, I was really taken aback when students from huge states like New York and California were just astounded by the opportunities that my small Mississippi school has."
After the final banners were released, the celebration concluded with the "Cupid Shuffle." The crowd expeditiously congregated in the street and shuffled throughout the entire song.
"I think my favorite part was when we actually danced in the street," McConnell said. "To me, that's a celebration; that is what is what it was all about."
The Blue Notes played a few more selections as the crowd slowly drizzled away. Students sprinted to the cafeteria after the announcement that cake would be served in celebration of the rankings.
After all of the festivities were over, Dr. McConnell shared some final words: "But now, it's back to work."
About the Contributors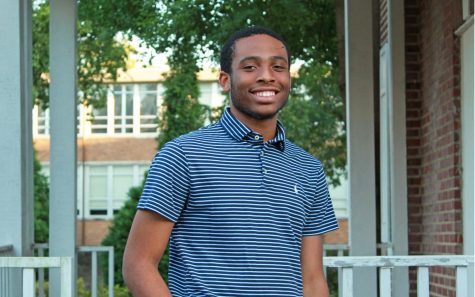 Cameron Thomas, Managing Editor
Cameron Thomas is a senior from the small town of Port Gibson, Mississippi. Serving as this year's Managing Editor and previously a copy editor, he enjoys...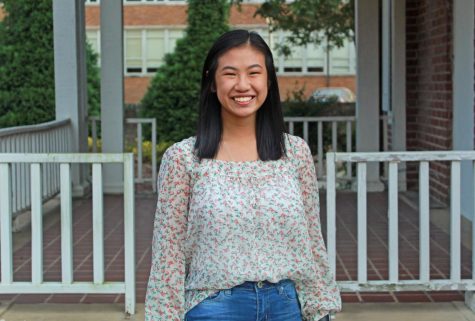 Gina Nguyen, Editor-in-Chief
Gina Nguyen, this year's Editor-in-Chief, is from d'Iberville, MS. Nguyen previously served as the Photography Editor. She is a member of the MSMS Graduating...