Dreamer and Orange Lover Helen Peng Named National Merit Semifinalist
This week we shine a spotlight on a special National Merit Semifinalist, our Editor-in-Chief, Helen Peng. Peng is a senior hailing from Starkville, who enjoys oranges, art and thinking.
You can find her stressing over her college apps in the library with her best friends and a bag of oranges by her side. Aside from being our wonderful Editor-in-Chief, Peng is active in many clubs on campus. She's also the president of Interfaith Dialogue club and co-president of the National History Day club.
Peng's PSAT experience was different than others. Unlike most, she actually studied for the daunting standardized test.
"I really wanted National Merit and I knew I naturally sucked at standardized tests, so I threw myself into studying. So basically for the whole of September I did PSAT practice every day for one-and-a-half hours: crackSAT, College Board Practice tests, you name it. Now that I think about it, I'm proud of whatever self-control I had and that it paid off, but it was also a little depressing and I should have probably been studying for AP Chem instead. For juniors, even though it's already probably too late, I'd say practice makes perfect. These stupid tests are just trying to trip you up, so just learn their tricks."
"
These stupid tests are just trying to trip you up, so just learn their tricks."
— Helen Peng
Peng took a load of rigorous classes last year to explore her options. If accepted, she plans on attending Brown University, although she doesn't know what she wants to major in at the moment. She loves environmental sciences and policy but is also a talented artist. Journalism is certainly a passion of Peng's, but she can also u-sub integrals like nobody's business.
Over the summer Peng participated in an intensive week-long journalism camp where she was able to meet with top journalists such as David Rhodes, Jameela Hill and Richard Lui. Peng says she only took Journalism I last year to explore her options but absolutely loves being Editor-in-Chief.
"I feel like I'm struggling and not being good at [Editor-in-Chief], but honestly my editors and staff lift me up and make everything worth it."
"Helen is a great Editor-in-Chief and I couldn't imagine any one else doing the job as good as she does," added staff writer Davan Reece.
The editors and staff of the Vision are not the only ones that have encouraging words to say about Peng. Her other peers are quick to speak highly of her effort in and outside of the classroom.
"Helen has drive. Resilience and stubbornness form the basis of her work ethic, and it shows through her accomplishments. She's humble about her abilities and strives to lift others in their achievements. I believe National Merit Semi-finalist status is just one of her many milestones to come," stated c/o 2018 MSMS alumni Gary Nguyen.
"She's cute, she smiles, she's feisty," added fellow senior Victoria Waller.
"
She's cute, she smiles, she's feisty"
— Victoria Waller
One day she plans to pursue her passions in a big city, somewhere like New York.
"It's been a dream to live in New York City, so catch me in a cardboard box on the streets. I kind of have this weird obsession with sharing and integrating perspectives but that might just be a hobby. I also really like art and design and am generally really curious of new things. I'm also a bit of a control freak, so maybe I'll be some sort of director or have a managing position. Basically, I don't know, but that's what college is for."
But wherever her path leads, Peng states, "find me in the city with an endless supply of paper, fruit, and pens. And probably a cat and dying plants."
Hang on for a minute...we're trying to find some more stories you might like.
About the Writer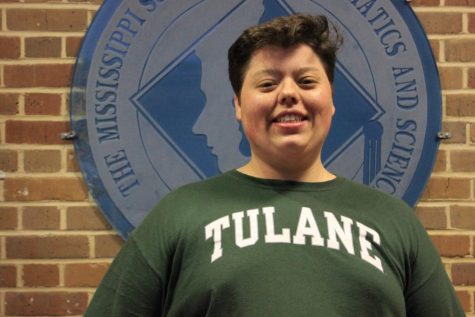 Brady Suttles, News Editor
Brady Suttles, a senior at MSMS hailing from Meridian, MS, is the returning News Editor for The Vision. When he isn't rapidly editing articles and asserting...