MSMS Junior Class Officers Announced
Approximately six weeks into the school year, MSMS juniors class elections have commenced. In Hooper Auditorium on Tuesday, Sept. 24, candidates delivered compelling speeches in order to win the hearts of students.

As voting inputs gradually came in, the junior class Treasurer and Historian positions were announced, and runoffs were held for junior class President, Vice President, and Secretary.

Candidates needed a simple majority to be elected; one candidate from each category needed more than 50% of the vote in order to be elected.

After two anxious days of runoffs, results were broadcasted.

MSMS juniors Alisha Burch, Gina Nguyen, Alicia Argrett, Chloe Jackson, and Reggie Zheng were elected for class officer positions for president, vice-president, secretary, treasurer and historian positions, respectively.

Burch won the election of Junior Class President with a popular vote of 46.22%, after one run off election.

"When I found out, I couldn't stop giggling. It was a really nice experience, and I don't want to make my peers and classmates regret their decisions.

"

I'm going to make our junior year the best junior year for us to remember for the rest of our lives"

— Alisha Burch

," Burch stated.

Burch already has prom themes and sponsorship ideas in mind.

After two runoffs, Gina Nguyen won the Junior Class Vice President position.

"I wanted to hold a leadership position because I've always been looked up to by my peers as a leader. I've been a class president in student council since seventh grade, and it's always been something I enjoyed doing," Nguyen said.

"The runoffs…those darn runoffs…" Nguyen says. "It was really nerve racking. I was really shocked even though people reassured me that I got this. Then, there was a second runoff, and my anxiety got held out way longer than it needs to be."

In the first election, Nguyen received 27.89% of the overall votes. This increased to 42.71% in the first runoff, and then her election after the second runoff.

"This is a completely new environment, with completely new people to work with. There will be a lot more differences and higher expectations than my previous school."

Nguyen understands that being vice president here will be different than at her previous school. She is excited and prepared for the future.

Also resulting in a runoff is Alicia Argrett's election.

"I'm expecting to take notes on SGA meetings as well as putting in my insights on student affairs and activities and such. At my home school, I've always wanted to do it, but it was more of a popularity competition." states Argrett.

"I thought that it would be a perfect opportunity at a new school to take
a leadership position that I couldn't do at my old school, so I did."

Argrett was initially tied for Junior Class Secretary during the first voting; then, she had gotten the majority vote of over fifty percent, earning her Junior Class Secretary.

Chloe Jackson holds the MSMS Junior Class Treasurer position.

"I remember the opening speeches during the first week of school. Dr. McConnell says we have all these great ideas, but we just need the proper funding to put it in place. As Junior Class Treasurer, I want to get the proper funding for my classmates so that ideas can come to life because it is a starting ground for future leaders to become future leaders," Jackson said.

Jackson plans on not only helping in organizing the winter formal and prom, but also in helping funding for more opportunities for the MSMS student body.

Lastly, Reggie Zheng was elected Junior Class Historian for this school year.

"Primarily, I'm going to take pictures as a historian, but I want to do more than that. I know the student body mostly plan prom and winter formal, but I want to do more listening to people's problems and getting their voices heard, like the senators." Zheng states.

As a historian, Zheng assures his peers and classmates that he will do his best in order to make the junior

class's voice and opinions acknowledged, if not already.

"It's a lot of me wanting to help the student body. I want to use this position to let people who aren't in these positions to get a say because their opinions matter as well."

Although class officers mostly contribute in organizing the winter formal and prom, these five individuals show that they would like to do more than that. They ran for these positions not only to organize prom and winter formal, but also to express the voices of their peers and classmates.
Hang on for a minute...we're trying to find some more stories you might like.
About the Writer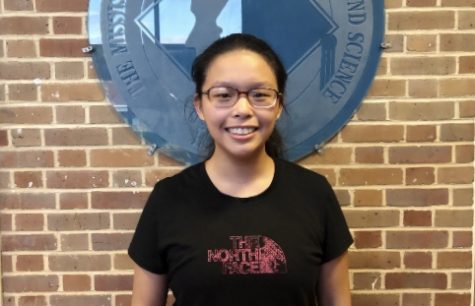 Hua Chen, Staff Writer
Hua Chen, a staff editor for The Vision, is from Lucedale, Mississippi. Currently a junior at MSMS, she spends her time stalking the media, practicing...