Peng: Certain Grievances on College View
Monday, September 17- Trotter Convention Center was lined with rows of decorated tables accompanying the excited wave of blue. It is College View day, meaning a total of 53 colleges and their representatives are awaiting curious MSMS students. Traditionally, the point of college view is to, hopefully, educate seniors and juniors on their college choices. With MSMS's College View made up of in-state colleges like Mississippi State University or Ole Miss to Ivy Leagues such as Yale and Harvard, this activity is truly a great opportunity for all students in their prospects for an educational future.
In my case, I came into College View determined to talk to as many colleges as I could. My notebook was ready, I brought a spare pen in case my first one ran out of ink, and I had a list of questions to all of the colleges I wanted to talk to. Call me an overachiever, but I was ready to embrace this opportunity as best as I knew how. Imagine my horror when I discovered I only had 30min to talk to the colleges of my choice! While I admit that any amount of time would likely be too little to have comprehensive conversations with representatives from all colleges, 30 min is absolutely miniscule.
Before I get ahead of myself, let me first reiterate how lucky MSMS students and other Columbus residents have in this opportunity. Yet as a senior, anxious about college applications and excited to talk to prospective colleges, it's hard not to feel disappointment when MSMS juniors had more time than seniors and some MSMS emissaries had the privilege of spending the whole time there. I admit, it is petty, but College View only comes once when you really care about it.
"I think it was unfair that last year we got more time even though we weren't even applying to college" senior Victoria Waller stated.
Similarly, senior Sarena Patel expressed her disappoint, "how do they expect us to talk to colleges, our future, with only 30 minutes? And some of our juniors and emissaries got more time than us!"
"At some of the more popular tables there were a lot of people so not a lot of them got their questions answered." Senior Morgan Emokpae reasoned.
Looking back two weeks later, perhaps College View was not as helpful as I would have hoped, even for the few colleges I talked to. College view seems like a grain of sand among the beach of work called college apps. But for next year, to avoid outlash for our dear juniors, I sincerely hope that College view is organized to maximize the future seniors' best interest.
About the Writer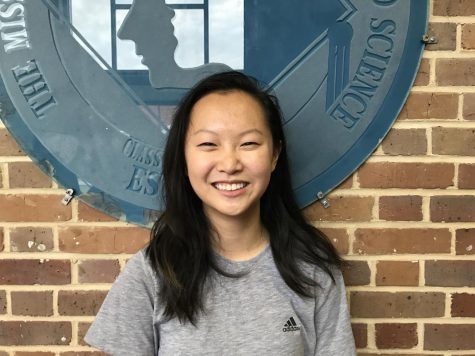 Helen Peng, Editor-in-Chief
Helen Peng, a senior from Starkville, MS, is the Editor-in-Chief for The Vision. In her spare time, Peng eats oranges at the library, draws random people,...