Mr. Jon Hosts Infamous MSMS Ping Pong Tournament
This past Thursday, 2nd floor Frazer's own Mr. Jon Beadlescomb held a ping pong tournament in Stark Recreation Center. With only five competitors, the students gave their all in the tournament as if their future ping pong careers depended on it.
In the tournament, the students played various rounds aiming for those three wins they all so desperately desired in order to be crowned victor of the tournament. If a player lost twice, then he or she would be eliminated. After Mr. Jon explained all of the rules, they immediately started.
It kicked off with the juniors, Josiah Kaler and Russell Thompson, on one table and the seniors, Josh Seid and Advaith Sunil, on the other.
Kaler claimed an impressive victory over Thompson with a score of 21-7.  "My strategy was mostly the same for everyone," Kaler said. "Always keep them on their toes. Sometimes I'd find a players weakness and exploit it when in need of a point or momentum breaker, but outside of that, I kept them guessing."
The seniors' game, however, was a bit more competitive. With the close score of 26-24, Seid slightly pulled out the win.
To continue round one, Mr. Jon generously took Thompson's place, so junior Esmond Tsang could participate. However, he did not have any pity for Tsang beating him 21-8. "He hit a lot of varying serves," Tsang said. "Some traveled a short distance; a few deceptively twisting mid-bounce, and let's not forget his notorious bullet-like cross-table serve." Afterwards, Mr. Jon stepped back out of the tournament.
Starting round two, the winners, Kaler and Seid, played a match, and the losers, Tsang and Sunil, faced off in order to still have a fighting chance in the tournament. Although he made an earnest attempt to make a comeback scoring a whopping seven points in a row, Tsang still fell short and was eliminated with a score of 21-11. In the winners' game, Kaler claimed the 21-15 victory over Seid, making him vulnerable to elimination.
In the elimination round, the two seniors, Seid and Sunil, reunited once again with everything on the line. Sunil fought relentlessly, but a few simple mistakes caused him points, giving Seid the 21-16 victory.
With Kaler and Seid being the only two players remaining, the two titans clashed in a legendary rematch fighting for bragging rights and the opportunity to perform an awkward victory dance.
Seid's thirst for vengeance and his determination led him to an astounding 21-13 win over Kaler. However, this was Kaler's first loss, so another match between the two was needed.
Due to the unexpected lengthiness of the tournament, the final round was not able to be played. This leaves a question: who is the best ping pong player at MSMS? The world may never know.
Hang on for a minute...we're trying to find some more stories you might like.
About the Contributor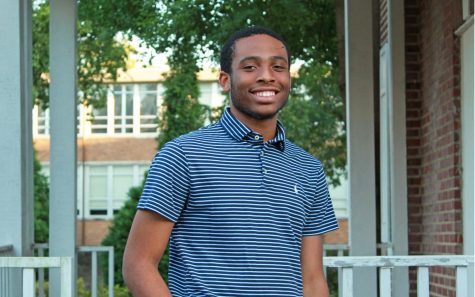 Cameron Thomas, Managing Editor
Cameron Thomas is a senior from the small town of Port Gibson, Mississippi. Serving as this year's Managing Editor and previously a copy editor, he enjoys...