Dev Jaiswal: Friend to All and Enemy to None
He does it all: Emissary, Senator, Blue Knights, Drama Club, Test Prep Club, and Boys and Girls Club. Hailing from Winston Academy in the small town of Louisville, Mississippi, Dev Jaiswal is a senior who has positively impacted the lives of many here at MSMS.
When he is not stressing over college apps or his arduous MSMS schedule, Jaiswal enjoys listening to his childhood video game music and playing basketball with friends on Mondays and Wednesdays.
Jaiswal, like most, came to MSMS to step out of his comfort zone and to receive greater challenges.
"Comparing MSMS and my old school, the academics here are a lot more interesting," Jaiswal said. "The main thing is that the students here are really nice and accepting, and that's just something I really like about MSMS. I feel like I'm able to challenge myself and grow as a person, and a lot of that has been kick-started by peers."
Believe it or not, Jaiswal faced many of the troubles during his junior year that juniors are currently enduring. "Okay! So there's this class called Foundations of Higher Mathematics….. Yeah, it kicked my butt," Jaiswal said. "The last good math teacher I had before MSMS was in sixth grade, so I was a junior with a sixth-grade knowledge of math."
"A lot of what made my junior year hard was that I was doing things that before MSMS I'd never dreamed that I can do," Jaiswal said. "Every single event was like a first. What made it hard was adjusting to that, constantly being in new situations and like learning how to adapt to that."
Regardless of the hurdles that stood in his way, Jaiswal "stayed the course" and survived his eventful junior year.
"But I learned a lot from junior year. Now, I'm in Calculus BC which is the hardest class I can possibly take, and I'm struggling, but I'm making it," Jaiswal said.
Jaiswal had some enlightening words of encouragement for the junior class:
"No matter how hard the school is, keep believing in yourself and don't hesitate to ask the teachers for help because they want to see you succeed. Also, put yourself in situations here where you're uncomfortable, and try new things out. You might just be amazed by what happens."
In closing, he also had some things to share with his fellow classmates:
"College apps are hard! But we'll make it. Trust the process, and just know we're in this boat together. I'm glad that I've had the opportunity to spend this time with you guys, and I can't wait to see where everyone goes next!"
Hang on for a minute...we're trying to find some more stories you might like.
About the Writer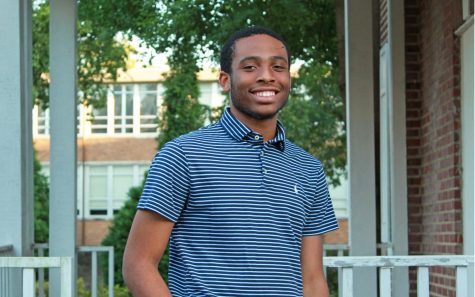 Cameron Thomas, Managing Editor
Cameron Thomas is a senior from the small town of Port Gibson, Mississippi. Serving as this year's Managing Editor and previously a copy editor, he enjoys...