Movie Review: Room (2015)
"Truck, wiggle out, jump, run, somebody," Brie Larson recites as Ma in the 2015 thriller "Room," to her son. This line equals triumph, fear, and happiness all rolled up into one big tear-jerker sandwich.
It's filled with intense emotions and unfathomable content while maintaining a cinematic elegance. It's about a woman, played by Brie Larson, who was kidnapped at seventeen and kept in a shed for seven years, and within those seven years, she gave birth to a son named Jack, played by Jacob Tremblay. On her son's fifth birthday, there comes a turning point in their lives and the woman makes the decision to escape her captor.
The movie begins with a little boy greeting all the items that were in the "room," including a sink, a bathtub, a bed, a wardrobe, etc. He was dressed in a dirty blue short sleeved shirt, cartoon underwear, and tube socks without a care in the world. This is what set the tone for what life was like for Jack and how much could fit in a room with only four walls, one door and no windows. I was immediately shocked at the fact of someone being trapped in a room with a child, but as the movie progressed it became quite clear that this particular child was the only source of happiness for this woman.
What was so enthralling about this movie was that Jack had no knowledge of the outside world. He only knew as much as his mother told him and that was not much. The only person this child had ever interacted with was his mother and the only other person he had ever seen was the captor, Old Nick. This movie was somewhat through the eyes of Jack especially when Old Nick shows up. In the first few scenes that Old Nick is in we can't see his face and when the camera pans to him it's often through the blinds of the wardrobe Jack's mother puts him in before Old Nick comes.
Old Nick usually came to violate Jack's mother in the night or to bring essentials for them to survive in the shed. When Jack's birthday came around, his mother asked her captor to bring ingredients so she could bake her son a cake.
Upon this request, Old Nick replied with "Oh it's his birthday, how old is he going to be anyway, four?" and Jack whispers through the wardrobe "five" trying to get a glimpse of the man's face. This scene broke my heart into a million pieces.
The movie being through Jack's eyes is what got this movie nominated as best picture. A lot of things had to be taken into consideration when both filming and writing the movie. Especially during the escape scene. In this scene the mother coaches her son to play dead after her failed attempt to get her captor to take her son to the doctor. Her plan was to roll her son up in the rug that was on the floor and tell Old Nick that his sickness got worse and he died. Her plan was for Jack to be taken by Old Nick and put into the back of his truck. Then for Jack to wiggle out of
the rug, jump off the back of the truck when it stops and find somebody to help save his mother and himself.
Everything goes as planned but no one could have prepared Jack for seeing a tree for the first time. No one could have prepared him for the feeling of the grass he falls into when jumping off the back of that truck. The cinematic elegance really shines in this scene because when Jack unrolls himself successfully out of the rug the music stops, and a ringing replaces it. That ringing sank deep into my heart because I felt, heard, smelled, and tasted the fear and curiosity inside of Jack in those moments of him staring up at the sky watching the trees pass by.
In those moments everything moved in slow motion except for the ringing that replaced the music when Jack lay in the back of the truck motionless admiring his surroundings. This is where the tear-jerker sandwich comes because that bit of triumph for Jack was a bit of triumph for his mother. When he was reunited with her only hours later you feel an aura of satisfaction and completion. This movie takes you through even more emotional rollercoasters after Jack's mother is reunited with her family, but you'll have to watch the movie to know what happens there.
If you're looking for a good cry and are sick of seeing bad acting and horrible plot lines, then I would definitely recommend this movie. If you don't have emotions, then don't watch this movie it would be a waste of your time.
Hang on for a minute...we're trying to find some more stories you might like.
About the Writer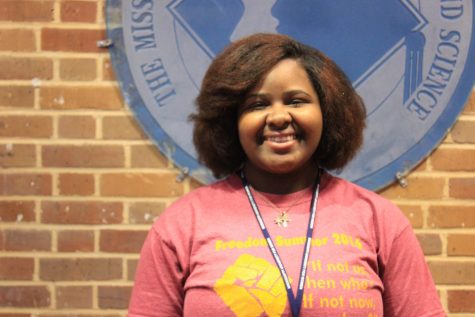 Jessikah Morton, Social Media Assistant
Jessikah Morton is a senior here at MSMS. She is a part of the social media section of The Vision. She is in BSA, Blue Diamondz, Spirit Squad, and she...