SGA and Senior Class Officers Announced
After classes had concluded for the day on April 18, juniors and seniors alike filed into Hooper Auditorium to listen to the speeches of individuals fighting to secure a spot as a Senior Class or SGA officer for the 2018-2019 academic year.
Twenty-five juniors delivered speeches of three minutes or less in an effort to win the votes of their fellow classmates to secure their position. Some students ran to become an officer in the Student Government Association while others were hoping to become a Senior Class Officer.
Lori Feng was named the SGA President for the next school year.
"To campaign, I made several campaign posters, and the wonderful Victoria Waller made several posters as well. It was pretty interesting because we both made posters with slogans that used two different pronunciations of my last name," shared Feng. "The one that I used the most often was 'Go for the glory, and vote for Lori for SGA pres.'"
"I really wanted to run for a SGA leadership position because I wanted to help make legislative changes that would benefit MSMS," said Feng. "I had also been a senator this year, and the Senate meetings really gave me insight to more issues that I wanted to address senior year in order to help make MSMS a place where even more students can thrive and be their best selves. Personally, my transition into MSMS wasn't the easiest, and I really wanted to help that transition for upcoming juniors."
The decision to take on this role, however, was not one that Feng took lightly.
"Before I made the decision, I was really debating about which position to run for, but after speaking to Gary about what he does as SGA president and what he believed the SGA president next year should improve upon as well, I solidified my decision to run for SGA president."  
Hamilton Wan will serve as the SGA Vice President.
"I became interested in running for this position through my participation in Senate this year," said Wan. "In addition, I became interested in being able to preside over Senate and serve as a bridge between the student body and the Senate to leave behind a legacy of positive change at this school."

The position of SGA Secretary has been earned by Michelle Luo.
"I was undecided upon which position to run for at first. I was thinking maybe senior class historian at one point, but decided against it in favor of SGA secretary when I sat in on a Senate meeting," shared Luo. " It's also been a bucket list item of mine to at least try running for a student government office just to get the experience, and this time it worked out."
Luo shared the reasoning behind her campaign method.
"I made hexaflexagons because I realized I needed something unique to stand out as a candidate. I thought it was clever in that hexaflexagons are fun to play with, which increases the amount of time spent looking at the message."
The new President of the Senior Class is the current Junior Class President, Samantha Anderson.
"I enjoyed being class president this year and worked really hard, so my friends encouraged me," said Anderson. "I campaigned with Snapchat posts, gum, Airheads, Lifesavers, popsicles, and lots of puns."

After running for the same position during her junior year, Kiera Monroe was named the Senior Class Vice President.
"Last year I ran for Junior Class VP and I came up short on votes," said Monroe. I formed bonds with the people here, and as an outspoken person, I really wanted the people I love to be respectfully heard. I decided to give it one last shot and I'm glad I did."
As a part of her campaign, Monroe provided the student body with free coffee, using the slogan "Start your day with a cup of K."
Elle Smith, the newly elected Senior Class Secretary, ran for this position with a specific goal in mind.
"I've noticed the gap and distrust between students and authority," said Smith. "I feel like I have a healthy relationship with the student body and faculty and staff simultaneously and it has become a personal dream of mine to bridge that gap. It is so important for students to feel safe and supported in their 'home away from home.'"
Millie Perdue secured the position of Senior Class Treasurer.
Perdue shared, "I'm always very nervous for speeches, especially when they are important to me. I felt like I had done horribly, but I'll try to work on being more comfortable in the future."
The title of Senior Class Historian was given to Aaron Montgomery who voiced his reasons for running for this position.
"Since I had run for offices before, both here and at home, it was only natural to bring my best to the table to help serve the current student body and as well as the juniors to come. The deciding factor came when I was helping Samantha Anderson with decorations for prom and thought I could help more if I could get more involved."
Montgomery felt confident after delivering his speech.
"I was the first speech to be given and wasn't nervous," he said. "From the laughs and giggles, I received throughout my speech I could tell it went great. I am relatively comfortable with giving speeches to crowds if I can see familiar faces."
Hang on for a minute...we're trying to find some more stories you might like.
About the Contributors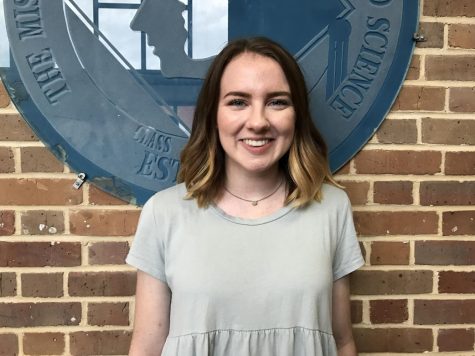 Keely Brewer, Photography Editor
Hey! My name is Keely Brewer and I am a senior at MSMS. I'm a Photography Editor for the Vision. I'm also a part of Photography Club, Film Club, Forgotten...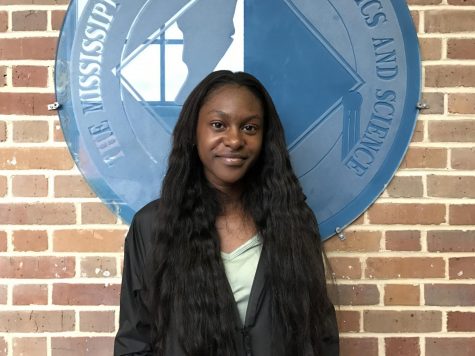 Nique Hairston, Staff Writer
Hey  my name is Nique Hairston. I am a staff writer for journalism at MSMS. My hobbies consist of modeling and singing. I plan on going into the career...