MAO Sweeps State Convention
Members of the MSMS Mu Alpha Theta Organization won numerous awards at their State Convention this past Sunday and Monday (April 15 and 16) at Mississippi College in Clinton.
As a team, MSMS won the overall sweepstakes prize, besting Madison Central High School at second and Jackson Preparatory Academy at third. The MSMS Mu Alpha Theta team also won the following awards overall: first place Banner, second place Scrapbook, fourth place Logo, first place Video (made by senior Kendra Bradley, senior Vivienne Tenev and junior SGA Secretary-elect Michelle Luo), sixth place Junior Ciphering, first place Intermediate Ciphering, first place Advanced Ciphering, first Potpourri, third Hustle, second Interschool, and first Relay.
The week before the MAO State Convention was a frantic one for math teachers and students alike. Teachers could be seen rushing in and out of the student lounge, printing materials for the competition as the main copier was down. During tutorials, classrooms were filled both with students working on math for their classes and students working with the teachers for the convention on items such as scrapbooks and school name-tags.
Participating in Mu Alpha Theta was junior Liz Huynh's first experience with a math-related extracurricular. She says her love of math grew "quite a bit" after the convention.
"I had a blast at the MAO State Convention. My favorite part of the event was definitely the awards ceremony because I felt really really proud of our school's hard work."
Huynh also connected the state convention to wider social issues in Mississippi when she commented on her least favorite part of the event.
"My least favorite part was when I realized that the schools that place tend to have better funding or better math programs than other schools. I guess this stems back to wider social issues around Mississippi, but to see the effects first hand touched me."
Junior Connor Chitmon explained that the State Convention was the first time he had participated in such a large competition.
"I was amazed by the number of different events and the organization of the convention."
Chitmon most enjoyed participating in team challenges such as Ciphering and Relay, but found the wait time between events rather long. He plans on participating in the event next year as well.
"
I was amazed by the number of different events and the organization of the convention."
— Connor Chitmon
This was the second state convention for junior Kaelon Mcneece, who also agreed with Chitmon that the wait times between events was long but explained that this time was a great opportunity to meet new people.
"My favorite part about the event was getting to meet people from all across the state who are just as passionate about learning as we are," McNeece said. "I got to meet some great people, and I had a lot of fun."
McNeece participated in the Interschool, Intermediate Ciphering, and Trig/Pre-Cal competitions. He plans on attending the event again next year.
"
I got to meet some great people, and I had a lot of fun."
— Kaelon McNeece
Seniors William Johnson and Leah Pettit were the leaders of Mu Alpha Theta this year, working alongside their fellow seniors Jim Zhang and SGA President Gary Nguyen who organized team practices.
MAO is one of the most active student organizations at MSMS. They host weekly meetings and frequently conduct competitions, including the October Math Madness, the tri-state Ala-La-Miss, and the national Fall Start-up contest.
This was the last Mu Alpha Theta State Convention for the senior class.
Individual team members also won awards as follows:
Ezra McWilliams- Algebra 2, 5th place
Michelle Luo- Trig/Pre-Cal, 1st place
Liz Huynh-  Trig/Pre-Cal, 8th place
Danail Dimitrov-  Trig/Pre-Cal, 9th place
Connor Chitmon- College Algebra, 2nd place
Aidan Warren- College Algebra, 4th place
Kevin Liao- Statistics, 1st place
Maria Kaltchenko-  Statistics, 4th place; Chalk Talk, 1st place
Lori Feng-  Statistics, 7th place
Leah Pettit-  Statistics, 8th place
Hamilton Wan- Calculus- 1st place
Brent Styles-  Calculus- 2nd place
Aidan Dunkelberg-  Calculus- 7th place
Victoria Gong-  Calculus- 8th place
Hang on for a minute...we're trying to find some more stories you might like.
About the Contributor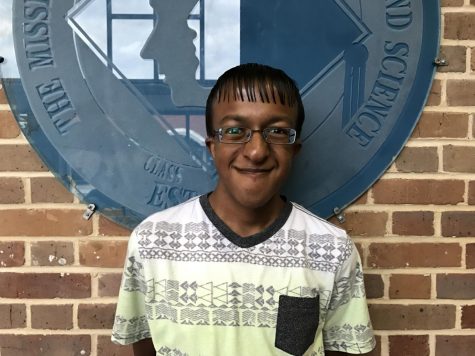 Dev Jaiswal, Copy Editor
Hello everyone! My name is Dev Jaiswal,  and I am from the beautiful town of Louisville. I love anything that has to do with food, languages, words, computers,...