Tennis Team Views Starkville Loss as "Great Practice" for the Future
MSMS's 2A tennis teams faced a tough opponent this past Tuesday on the away courts of the nearby 6A Yellow Jackets of Starkville High School.
The girls' doubles I division (senior Blue Waves and girls' captains Erin Owens and Sarrah Der-Ballout) won their match, and the boys' doubles I division (seniors Blue Waves Daniel Leetran and Brent Styles) went into a tiebreaker.
Senior and girls' co-captain Erin Owens, part of the winning duo, commented on the match.
"Overall, the team played really hard and did well to be playing a very experienced 6A team."
The match concluded in an overall 1-6 loss for the Blue Waves.
As one of the boys' captains, senior David Thaggard commented that his senior year of tennis has been "very fun and enjoyable" because of his team's dedication and love for the game as a whole. He expressed his appreciation for his team's tenacity despite the tough opponent they found in the Yellow Jackets.
"I was pleased with our performance. We did not play our best or win, but we fought in every match and we did not go down without a fight."
Thaggard takes this match as a "much-needed learning experience," as this was one of the toughest teams the Blue Waves have played.
"
We did not play our best or win, but we fought in every match and we did not go down without a fight."
— David Thaggard
Junior Advaith Sunil, an experienced player on the courts, commented on the loss and agreed with Thaggard that the match was a great learning experience.
"They were a 6A school and very good," Sunil expressed. "They were good practice. It's better to play with people that are better than you."
Sunil has been playing tennis since middle school.
Unlike Sunil, junior Josh Seid is a newcomer to the game who expressed that he "is glad he started [playing tennis] here" because he enjoys the fun of playing with people more experienced than he is.
"I didn't play [before MSMS] but I would hit around with my brother. I knew very little about the actual game, but you could say that I wasn't completely new."
Seid agreed with Sunil and Thaggard that the match against Starkville was "great practice" for the rest of the season.
Speaking of the rest of the season, the stakes are high for the Blue Waves, last year's reigning 3A state champions.
MSMS has moved to the 2A bracket this year.
Senior veteran player Brent Styles expressed the small effect the recent Starkville loss has on the team's confidence, excitement and hope for another deep run in the state tournament this year.
"Last year, we played them [Starkville High School] and we lost pretty bad too. So I don't think it has much of an effect on the state tournament."
Styles expressed that, as a veteran player, he enjoys seeing younger players and newcomers grow and improve over time. He also expressed that this past week was rather tiring, with games on Tuesday, Wednesday and Thursday.
"
I don't think it has much of an effect on the state tournament."
— Brent Styles
Seid responded to Styles' comment on the busy week of tennis. "Yeah, this week we had games back-to-back-to-back, didn't we? That was fun."
Wednesday's game against Tupelo Christian resulted in a loss for the Blue Waves. MSMS emerged victorious in Thursday's match against East Webster.
Sunil identified several duos to watch closely as the season continues.
"Keep an eye on mixed doubles Erin Davis and David Thaggard, boys doubles one Daniel Leetran and Brent Styles, and girls doubles one Erin Owens and Sarrah Der-Ballout."
The next match will be on Monday, April 9. Okolona will arrive to challenge the Waves on home turf.
Hang on for a minute...we're trying to find some more stories you might like.
About the Writer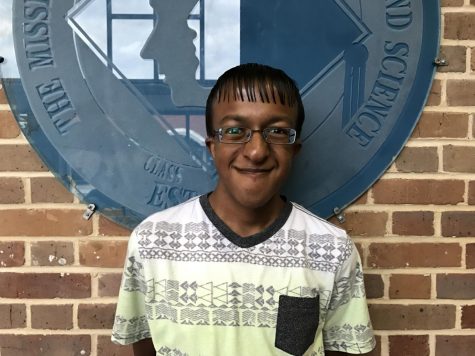 Dev Jaiswal, Copy Editor
Hello everyone! My name is Dev Jaiswal,  and I am from the beautiful town of Louisville. I love anything that has to do with food, languages, words, computers, fantasy books, basketball, and astronomy. Other writing for The Vision, I am an MSMS Senator and a volunteer at the Columbus Boys and Girls' Club. I also do Science Bowl! Looking forward to a fantastic school year!!