Teacher Spotlight: Dr. Thomas Easterling
Dr. Thomas Easterling's favorite pastime is just being a dad.
Easterling is in his fourteenth year at MSMS, and after a day teaching a plethora of classes and sponsoring a variety of clubs, he often finds himself rushing from the school to a golf tournament, baseball game or community service opportunity of his sons, Grayson and Jack.
"I really do enjoy those moments and wouldn't trade them."
With his activities both at MSMS and with his family, Easterling keeps very busy, and this eventful business and activity has defined him throughout much of his life.
Easterling was born in Alexandria, Louisiana and graduated high school at the Louisiana School for Math, Science and the Arts (LSMSA), where he credits teachers for their impact on his life.
"The great thing was that at every turn I had great teachers who were interested in helping me reach my potential."
Easterling spoke especially fondly of his English teacher at LSMSA, who helped him develop his love for language.
"In fact, my English teacher there became sort of a lifelong mentor," Easterling said. "He showed me how to write in ways that were way more effective than the ways I had when I walked in. Because he was so articulate and passionate and intelligent in the classroom and had me read things in ways I had never read them before, he developed in me a fascination with what's difficult."
Easterling was quick to elaborate that other subjects at LSMSA were also difficult, but none managed to capture his heart as the English language did.
"And that isn't to say that algebra or chemistry or physics were easy for me, I just didn't respond to them the way that I did with the English classes. I do wish I had taken some of those classes more seriously, but once I had discovered that affinity for finding out truths in between the lines, I couldn't leave it behind."
"
Once I had discovered that affinity for finding out truths in between the lines, I couldn't leave it behind."
— Dr. Thomas Easterling
After graduating from LSMSA, Easterling spent some time studying at Vanderbilt University. However, after some cost-benefit analysis, he decided to complete his undergraduate degree elsewhere, at The Louisiana Scholars' College at Northwestern State University.
"Sort of in the middle of Vanderbilt, I realized I wasn't going to be in a career that made very much money–I was going to be either a journalist or a teacher. I did sort of do some cost-benefit analysis. I went back home for school and went to the honors college."
After his undergraduate degree, Easterling went to earn both his masters and doctorate through a fellowship at the the University of Mississippi. His dissertation was on an American poet laureate named Robert Hass and discussed domesticity in Hass's poems in relation to other major American poets. Throughout his fellowship, he took several classes of his own per semester and taught several undergraduate courses in addition to those classes.
"We received absolutely minimal instruction on how to teach, but it worked really well for me, figuring out how I could teach in ways that worked."
Also while at Ole Miss, he worked at "The Oxford American" magazine.
"It built itself as the Southern magazine of good writing. I got to help edit a manuscript by Zora Neale Hurston, one by William Faulkner, just these incredible luminaries. It was an example of me being in the right place at the right time."
Dr. Easterling taught at the Mississippi University for Women from 1999 to 2004. Since the 2004-2005 school year, he has been a part of the MSMS family. He teaches a plethora of courses, including University English I, British Literature, Contemporary Literature, Modern American Poetry, American Film and Dramatic Performance. He also sponsors several clubs, including Film Club, Drama Club and Interfaith Dialogue. His arrival to MSMS also included a reunion with Mr. Chuck Yarborough. The two teachers studied at Vanderbilt and Ole Miss at the same times.
"Our professional lives have intersected in interesting and fun ways over the years," said Easterling, of Mr. Yarborough.
"
Our professional lives have intersected in interesting and fun ways over the years."
— Dr. Easterling, of Mr. Yarborough
Not being restricted by a concrete curriculum is Dr. Easterling's favorite thing about being an MSMS teacher. He has the freedom to pursue and to teach courses and topics that interest him, contending that, when a work truly interests him, he can do a better job of helping students engage with that work.
"One of the great things about MSMS is that we get to teach in areas of interest to us. I can always rearrange the syllabus. If I find interest in something, I can pitch it as a course, and to this point, Mrs. Brown has been incredibly willing to allow me to pursue those interests."
He also loves grading students' essays.
"It's a weird thing," Easterling said, a smile on his face. "I want to grade more of them, and faster."
"
It's a weird thing. I want to grade more of them, and faster."
— Dr. Easterling
Easterling expanded on the changes he has witnessed at MSMS throughout the nearly fourteen years he has been with the school.
"The biggest difference professionally is that we used to have four English teachers instead of three. I would love if we could get more teachers here so that there would be a greater breadth of interests to be served for the students to consider, not just for the humanities, but also for the sciences and fine and performing arts."
Changes in technology have influenced the structure of the classroom. Easterling explained that, during class time, there is less of a focus on the definitions of words or on making sure students know what a certain flower referenced to by a poem looks like because, through technology, students can be responsible for looking up their own facts.
"We don't spend as much time on facts; I think we spend a lot more time on analysis."
Easterling wished to leave students with some advice from 19th century American historian Henry Adams that education should prepare them against their vocation. He encouraged students to keep an open mind and realize the importance of having a wide-ranging education because it is impossible for one to know if they like a subject until they have taken it.
"You might have the ability to be a brilliant chemist, but you have no idea of that until you take chemistry. You should try to find something interesting in every course you take. I like to tell students all the time that they have to choose what they do wisely because they will be spending more waking hours with their work than they will be with their families. Once you find something you love, you are more likely to live a life that satisfies you."
Hang on for a minute...we're trying to find some more stories you might like.
About the Contributor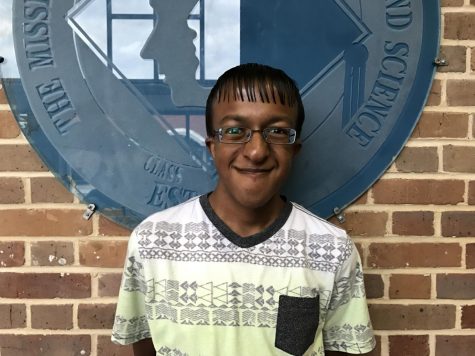 Dev Jaiswal, Copy Editor
Hello everyone! My name is Dev Jaiswal,  and I am from the beautiful town of Louisville. I love anything that has to do with food, languages, words, computers,...