Polepalli: Taco Bell is Not Mexican
Taco Bell, the love and life of many, is a cheap fast food restaurant that satisfies broke (college) students nationwide. In 1962, Glen Bell founded the very first Taco Bell in Downey, California. It started off with only four menu items: tacos, burritos, frijoles and tostados, only costing customers 19 cents for each item. These menu items make Taco Bell seem like a go-to 'Mexican' restaurant; however Mexican food, specifically tacos, differ greatly from Taco Bell items.
An authentic taco typically has chunky meat surrounded by a soft corn tortilla with a little bit of lettuce, tomatoes and cheese on top. Taco Bell, on the other hand, is known for its hard shell tacos and Doritos Locos collaboration. Many of the creations that Taco Bell have are Americanized and are not authentic. This shows that Taco Bell values the uniqueness of Mexican food by mixing it with American tastes and preferences.
Another reason Taco Bell is not authentic is because of its fusing of food with American companies, such as Frito-Lay and Doritos. Doritos worked with Taco Bell for three years before they were able to release their long-awaited Doritos Locos Tacos in March 2012. Frito-Lay also collaborated with Taco Bell to create the Beefy Fritos Burrito. Do not forget the Baja Blast created with the collaboration with Mountain Dew. All of these collaborations came together to give what Taco Bell really is, a beautiful combination of flavors that no one would have ever thought of. However, this is not very authentic because Mexicans tend to just use a plain corn tortilla, but this shows that Taco Bell has assimilated into American culture.
In reality, it does not truly matter if it is Mexican or not because Taco Bell is life. The many different sauces, toppings, and other customizations you can make to your taco creates a Taco Bell spell that is impossible to get out. Not to mention that it is possible to get a whole meal for only two dollars. Mexican or not, Taco Bell is still the life of many worldwide.
Hang on for a minute...we're trying to find some more stories you might like.
About the Writer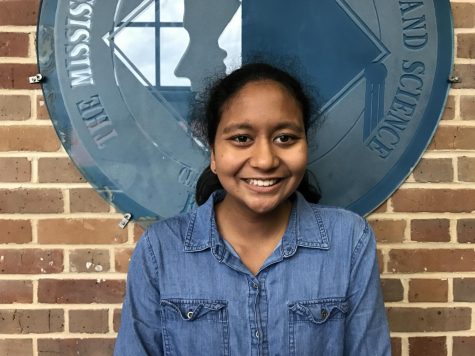 Likhitha Polepalli, Staff Writer
Hello world! I am Likhitha Polepalli and currently a junior at MSMS. I came from Northwest Rankin High School in Flowood, Mississippi.  I enjoy listening...