MSMS Students Enjoy First Snow of the Year
The Mississippi School for Mathematics and Science experienced its first snow day of the year last Friday, December 8, as a front of cold weather swept through the Southeastern United States. Early in the morning, bundled-up students left Goen and Frazer to a flurry of snow, which accumulated mostly on cars and lawns.
The roads on campus remained free of snow due to the above-freezing ground temperature. As appealing as a winter wonderland seemed, perhaps it was a benefit as many students traveled home for the weekend. Most classes proceeded for the day as the snow melted as quickly as it came. By 1 p.m., it appeared as if it had not snowed at all. However, while it lasted, students played in the snow with enthusiasm—some for the very first time.
Liz Huynh, a junior from Pascagoula, had never seen snow before Friday, but Huynh had wished for a snowfall the night before, conducting a ritual to bring forth the wintry weather.
"I checked the weather and saw it was a 50 percent chance of snow. So I Googled 'how to make a snow day.' It told me to wear my pajamas inside out, put a spoon under my pillow, and shake a snow globe. I went to sleep very hopeful. At 7 a.m. when my alarm went off, it said it's snowing in Columbus, and I jumped out of bed and started yelling," Huynh said. "I felt like Elsa for a moment. It's just funny—the coincidence."
Many students took a moment to yell and frolic in the snow, make snowmen and throw snowballs at classmates.
Huynh relayed her first experience of snow.
"I thought snow would be wetter. I thought when it touched your hand, it would melt instantly, but it didn't. It was amazing. When I was in Vietnam, I watched Hallmark movies which were joyful and had snow. So now I guess I relate to the Hallmark movies."
"It was very exciting for the first time seeing snow with my MSMS family, and it was very pretty," said junior Kelsey Hollingsworth, also from coastal Mississippi. "I enjoyed having snowball fights, and I liked having snow in my hair. I found out that it makes your hands really cold and red."
"I had so many snow fights, and I took a picture with Olaf, the snowman made by Gary [Nguyen] and his friends,"  Huynh said.
"It was a good surprise for the end of the school year, and I'm glad we didn't need to miss class," said Lauren Zarandona, MSMS math teacher.
The winter storm extended as far as southern Louisiana and brought inches of snow to other places around Mississippi. While Columbus experienced a mild snowfall, Accuweather.com reported that parts of Texas were impacted more severely, causing car accidents and power outages to thousands.
Hang on for a minute...we're trying to find some more stories you might like.
About the Writer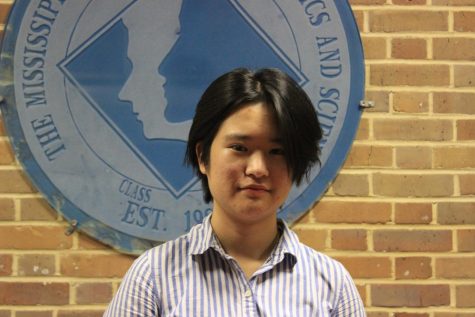 Michelle Luo, Web Editor
Michelle Luo is a senior at MSMS and the Web Editor of The Vision. The broad spectrum of her interests range from mechanical engineering to creative writing. She enjoys video games, cats, taking walks, pretty stationary and sipping sparkling water with suave flourishes.