Meet a National Merit Semifinalist: Griffin Stewart
This week's National Merit Spotlight shines on MSMS senior Griffin Stewart, one of the twelve National Merit Semifinalists recognized in October this year. Semifinalists are eligible to apply for Finalist status, which will open up the opportunity for many valuable scholarships.
Though the PSAT is long and gone for this year's set of MSMS juniors, next year's set can take note of Stewart's advice.
"Don't sweat it. NMSC status is distinguishing, but it doesn't matter all that much. Most selective top-tier colleges don't care and won't throw any scholarships at you for it. Becoming a Finalist can help you financially with a lot of state schools, but so does having a high ACT or SAT. Freaking out over this test really isn't worth the worry."
Stewart provided a realistic position on the National Merit recognition.
"I don't think being a Semifinalist—or even a Finalist, if I get that—will affect my future substantially. The colleges that I really want to go to don't seem to put much stock into the PSAT, and after college admissions, I couldn't see it being a real factor. It's a neat feather in my cap, but that's about it," wrote Stewart to The Vision staff through email.
Challenging courses are a staple at MSMS, and Stewart revealed what course he considers to be the most difficult as well as the most fun.
"I think Calculus II is my most difficult class so far this year. Quite frankly, it can just be difficult, but I like it more than any math I've ever taken. My favorite class is analytical chemistry. It's a senior class that has a flexible schedule, and it's almost entirely lab-based, which makes it a really fun class to take if you can fit it in. It also doesn't have tests."
Stewart recommends focusing on algebra and analytical reading to do well on the PSAT.
"Going into the PSAT, I did relatively little to prepare for the test. The night before I did about an hour of Khan Academy test prep."
But that wasn't quite all Stewart did to prepare.
"Before lots of big stressful tests, I like to watch some medieval brawling to unwind a little bit."
At MSMS, Stewart is co-president of the Astronomy club, and his interest in the subject is reflected in some of his bucket list items. Before he dies, Stewart wants to see the band of the Milky Way and the Large and Small Magellanic Clouds. Additionally, he would like to "drive over 200 miles and refine metals from their natural minerals, like mercury metal from cinnabar."
PSAT scores will be officially released this week. To ease the inevitable panic and cross-examination of scores among the junior class, Stewart has provided a (rather subtle) dad joke:
"I helped a friend move an elephant into his room last week. He offered to pay me for the help. 'Don't mention it,' I said."
Hang on for a minute...we're trying to find some more stories you might like.
About the Writer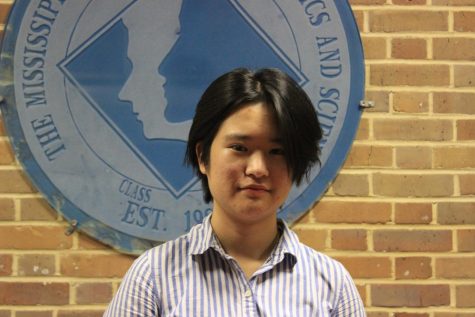 Michelle Luo, Web Editor
Michelle Luo is a senior at MSMS and the Web Editor of The Vision. The broad spectrum of her interests range from mechanical engineering to creative writing. She enjoys video games, cats, taking walks, pretty stationary and sipping sparkling water with suave flourishes.