The First RA Spotlight Shines on James Jourdan
MSMS shines the first ever "RA Spotlight" on James Lafayette Jourdan.
On Dec. 7, 1995, he was welcomed into the world by his parents Juanita and Lafayette Jourdan. While growing up in Corinth, Miss., he attended Corinth High School. Once he graduated, he proceeded to become a student at the Mississippi University for Women. He enjoys sports such as  basketball, track and weightlifting, and listening to his favorite artist, Kendrick Lamar, in his spare time.
Three years ago, Jourdan became an MSMS resident assistant after being referred to apply by one of his friends. He has been working with MSMS every since then.
Jourdan states that being an RA contributed to the person he is today.
Jourdan explained, "It made me realize how powerful my voice can be and how much of a mentor I can be to the kids." He also shared, "My favorite part is knowing that the kids can tell me anything, and that they know I'll always give them advice if they need it."
While staying in Frazer Residential Hall, Jourdan helps the young men with whatever they come to him with. The students feel like there is not a time where they cannot go to him.
MSMS senior Joseph Mimbs expressed, "James is a very cool guy. If I have any questions, he is eager to help me out and help me get done what I need to get done." He added, "I love how he is always looking out for us."
Not only is Jourdan a help to the students, he also aids the staff when it is needed. Working as an RA in Frazer means working with the hall directors and other RAs to get things done.
Frazer RA Christian Bradley said, "The three years that I have been working with James really have been great. When working alongside him, he really helps to make my shift easier and enjoyable." Bradley added, "If I ever need him to work a shift for me, he is always understanding no matter what."
Jourdan is currently 21 years old and is in his fourth year of working towards an AS in nursing. He plans on being either an emergency room nurse or an airplane nurse once he receives his degree. He participates in clinicals twice a week to get experience in nursing.
Jourdan shared, "Clinicals are fun because I get to have hands-on experience. Most times it's just giving out medicines, but sometimes we get to give shots. It helps because you actually get to experience the real deal thing. You can be taught in the classroom all day, but once you get the real life hands-on experience, it helps a lot."
Because Jourdan is striving towards his nursing degree, he expresses how sometimes it can be challenging to balance both RA responsibilities and school work.
Jourdan explained, "When I'm on duty in the lobby, sometimes I study in preparation for a test or a quiz. It can be a little bit distracting when the students are playing ping pong or foosball right beside the desk. But in the end, I get it done with extra focus."
Even with a lot on his plate, Jourdan still manages to be lively and helpful. He keeps himself on the ball as well as the ones around him.
Tyler Slaughter, an ASN sophomore, shared, "James is an all around guy. He keeps everybody on their toes and makes sure that we stay on task."
Once Jourdan graduates this year, he plans on practicing nursing in Atlanta, Georgia. After all, his favorite quote is, "Get rich or die trying."
Hang on for a minute...we're trying to find some more stories you might like.
About the Writer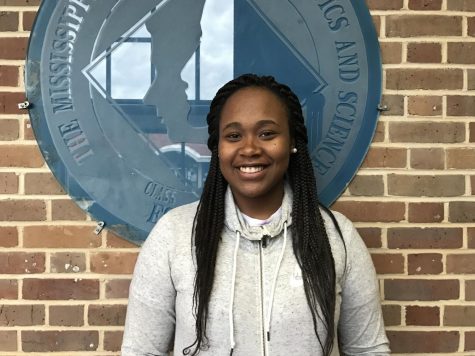 Aurelia Caine, Sports Editor
Hello everyone! My name is Aurelia Caine, some may know me by Scooby, and I'm the Sports Editor of The Vision. I enjoy playing multiple sports and hanging...