Saturday Night Fright Fest Brings Lively Energy to MSMS and MUW

Loading ...

Everything seemed quiet until "Back That Thang Up" came on in Nissan Auditorium at the Fright Fest on Saturday, Oct.21.

MSMS step teams, Blu Diamondz and Blu Knights, scrambled out of their seats and lined up in their formations. With them dancing around the room, the energy exploded with excitement, and everyone was pumped up.

The show opened with the MSMS fashion board showing the walk of decades, with all of their makeup "beat" (pun intended). It was a show of Halloween mixed with the decades. The crowd cheered as the models walked into Nissan and positioned themselves on stage to be shown off to everyone.

The crowd would have never known what was coming when Blu Diamondz walked out, but they brought the heat stepping on Nissan stage.  With multiple steps giving off such lively energy, they got the crowd excited for the rest of the show.  Exiting with "Rake It Up" by Nicki Minaj gave their part of the show the final touch.

Blu Diamondz sponsor, Ms. LaToya Bledsoe said, "They represented MSMS well and had a very good show. In the future, I hope they utilize the MSMS values even more than they did. Overall, they did a good job but in the future I would love to see some more creativity in the dances."

Next were the Blu Knights, with their routine being more fast paced than Blue Diamondz, but the guys brought the heat as well. With a little twist of people getting snatched off the stage, it gave the Knights just what they needed to push them over the edge and give them that flare.

The Passion Elite Dance Company from Columbus, Mississippi, was the next to take the stage. Who would have known how much passion and energy this group of kids could express their performance?

Last came the MUW Audacity Dance Team, a special-interest performance based organization.  Showing dances to new songs brought them in touch with the younger audience.  

Then as the results were being drawn, you could feel the thickened air in the room as everyone waited for the winner to be announced. The winner for first place in the dance portion of the competition was Passion Elite Dance Company. Followed sequentially by MSMS Blu Diamondz as second place in the step competition and MSMS Blu Knights as first place in the step competition.  

Blu Diamondz co-leader, Aurelia Caine said, "I am so proud of my girls.  For most of them, it was their first time ever stepping in front of a big crowd, and they handled it very well.  The girls did everything correctly like executing the steps, being precise and projecting their voice when it was time.  I am happy that they enjoyed themselves, and I look forward to preparing for the next show with them."

The communities of MUW and MSMS came together to celebrate their passion for dance. Blu Diamondz stepper Erin Williams said, "I look forward to learning more steps and strolls, developing a sisterhood and having fun."
Hang on for a minute...we're trying to find some more stories you might like.
About the Contributors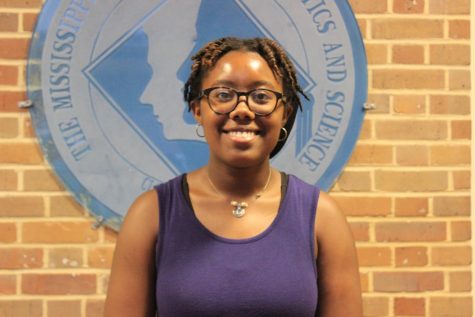 Kerrigan Clark, Assistant Web Design Editor
Hey! My name is Kerrigan Clark and I'm the assistant editor for web design and one of the social media assistants here at The Vision. I enjoy reading good books and painting more than anything.  After graduating, I plan on majoring in microbiology.  Here at MSMS I am apart of Wags and Whiskers, Voices in...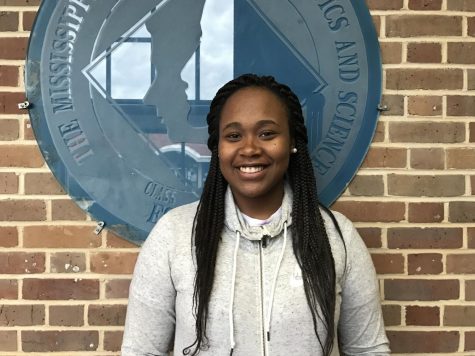 Aurelia Caine, Sports Editor
Hello everyone! My name is Aurelia Caine, some may know me by Scooby, and I'm the Sports Editor of The Vision. I enjoy playing multiple sports and hanging out with friends and family. I serve in positions in several clubs like Voices in Harmony, Future Business Leaders of America, Black Students Alliance, and Blu Diamondz....