The Salvation Army Calls for Help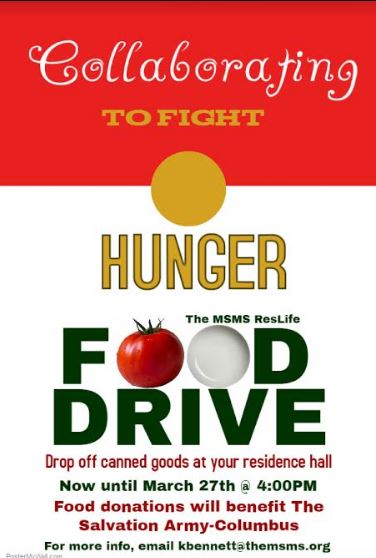 The Salvation Army of Columbus recently called on the community for aid as they strive to replenish their diminishing food bank.
The Commanding Officer of the Columbus Corps, Major Alan Phillips, appealed to the community in a moving message.
"We are facing a critical shortage of food in our food pantry. Food continues to be our biggest need. We assist an average of 40 families a week. We face the prospect of putting less in the bags, and in some cases turning people away. We are appealing to our community to help us by donating non-perishable canned food to help us provide to our most needy families," Phillips said.
As the local food portions decrease, the students of MSMS recognized that the number of people going hungry increases. To combat this issue, the residential halls, Goen and Frazer, immediately started accepting non-perishable canned goods in their respective halls.
Jessica Trigg, Community Leader at Goen, promoted this worthy cause that would fight hunger and provide a lending hand to those less fortunate in the city.
"We donated over a hundred cans to the Salvation Army of Columbus. I felt the need to do this because they wrote out to the community asking for donations since their food bank was bare. We delivered the donations on Tuesday and they were very grateful. We told them that if they ever need any other help, they can call on us," Trigg stated.
To offer an incentive for the students' good deeds, residence life staff decided that the Residence Hall that gathered the largest number of canned goods would be allowed a week off of room inspection. A count of the donated cans would show that Goen was the recipient of this incentive as they donated more than 50 cans while Frazer collected 47.
The Salvation Army has been supporting the members of the community since 1865. Nearly 33 million Americans receive assistance from the goodwill of The Salvation Army each year through providing food for the hungry, relief for victims affected by disasters, and clothing and shelter opportunities for underprivileged children. Any help is significant help and much appreciated. Through their donations, MSMS students were able to make an impact in their community.
Hang on for a minute...we're trying to find some more stories you might like.