"Wumbo Nights: The TV Show: The Play"–The Review: The Overview: The Reckoning
Hang on for a minute...we're trying to find some more stories you might like.
What can I say about "Wumbo Nights: The TV Show: The Play?" Written by our very own Noah Hunt and Keegan Lindsey, it is a play about family, trust, underhanded dealings, and Ghoul Energy: It's Ghoulin! But how do I even articulate what the truck happened within those magical 35 minutes (give or take a few) in Shackleford Auditorium?
For those who didn't see the performance, our counselor, Dr. Stevens, recorded the whole show: https://www.youtube.com/watch?v=S4Pikh-1jFU
Like the seasoned and well-prepared journalist that I am, I took notes during the play on the back of the Wumbo Nights: The TV Show: The Play's pamphlet using a pencil I borrowed from Vivian Van (Thank you, Vivian Van, for your contribution). Pictured below are the notes I took.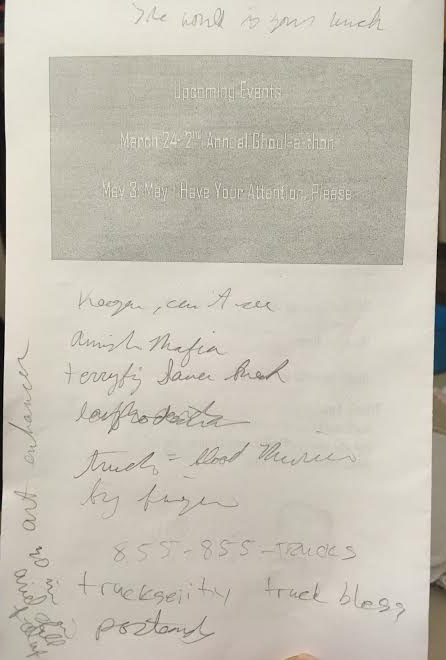 While it makes the world of sense to me, I'm willing to wager some of you reading can't decipher my masterful calligraphy. This is understandable, as I was blindly writing in the dark. So, I am going to go through the notes and elaborate on all of the plot points I felt were necessary to scribble down.

Written: Keegan, can't see
Ah, yes. When the play started, I couldn't see Keegan. I heard him—just couldn't see him. This wasn't a note of a clever plot point, but more a salty gripe I had with my seating arrangement. Special thanks to the tall person sitting in front of me with the beautiful brunette hair: you distracted me.

Written: Amish Mafia
The Amish Mafia! What an interesting concept. They're a vicious bunch, I imagine, with their Pastorfather (no Godfathers, I'm afraid; there's only one father God and he's watching over us right now, God bless). I can only assume Dr. Ted Shartlesby is "sleeping with the goats" after the show's events.

Written: Terrifying Band Break
Did anyone else see their lives flash before their eyes when the band in the back started playing? Not to say that it wasn't fantastic, but holy frijole. Reagan Poston, a senior, noted, "I thought a hurricane was coming through."


Written: ????
Okay, I'll admit, I have no idea what the heck this says. I believe I wrote down something on top of another word, so this monstrosity was conceived. If anyone can decipher this, I'll reward you with a gently used bottle of Jergens Shea Butter Lotion (deeply conditions for 3X more radiant skin with pure African Shea butter).

Written: truck = blood Murica
Who else was completely smitten with Duke Marshall Riggs and his sharp jawline and overly contoured cheeks? What, just me? Ahem. Anyways. He had some compelling stuff to say.

Written: big friga?
I can't even read this. I'm sorry. Again, if anyone can decipher this, there's a bottle of gently used Jergens Shea Butter Lotion (deeply conditions for 3X more radiant skin with pure African Shea butter) for the taking.

Written: 855-855-TRUCKS
If you want to donate to Duke Marshall Riggs "buy the biggest rig mankind can make" cause, here's the number.


Written: truckserity, truck bless
Why am I so taken with this man and his eloquent, honey-covered words? His stuff takes up like half of my notes.


Written: postcards
( ͡° ͜ʖ ͡°)

Written: 30 mi in, Ariel still fed up
She was messed up.


Written: art enhancers
I'm going to be honest. I thought the art enhancer was coke, not heroin, just judging by the white powder in the bag. Goes to show the dismal state the American education system is.

Written: The world is your lunch
I believe Don Isaac said, "The world is your uncle."
I have no idea why I wrote, "The world is your lunch." Either way, they both make for great senior quotes.
Confusing notes aside, I have to commend the writers, cast, and crew on the unique and heart-wrenching experience they shared with us Wednesday night.  Wumbo Nights is a performance very rarely found these days. It's a dark comedy that is transcendent of the typical mediums we are used to seeing—so much so, that I am still confused about many aspects of the show. However, I talked with one of the writers, Noah Hunt, about the play.
Rebecca:"So, is Wumbo actually a dog?"
Noah: "No, no, Wumbo is a kidnapped physicist who is treated like a dog."
Rebecca: "Ohh, okay, that explains why he could write on a whiteboard."
Great news, Bernice didn't beat up a poor, defenseless dog!
Rebecca: "So, 'Wumbo Nights: The TV Show: The Play' wasn't actually adapted from a TV show?
Noah: "No, it was an original play written by Keegan and me."
Rebecca: "Ah."
Knowing this, I can go on to say that the play was truly a unique piece of literature and art (created without the use of art enhancers) that will go down not just in MSMS history, but in dramatic performance history itself.