Album Review: "Drunk" by Thundercat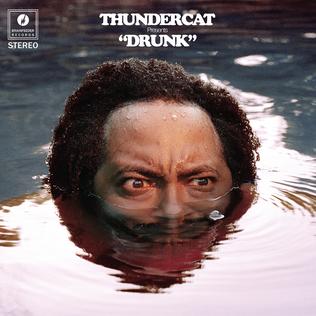 Hang on for a minute...we're trying to find some more stories you might like.
Describing Thundercat feels almost impossible. He's a jazz bassist who played for a thrash punk band before teaming up with noted electronic music maker Flying Lotus. However, his real mainstream breakthrough came last year when he helped Kendrick Lamar craft the epic "To Pimp a Butterfly." To say that he's had a storied or notable career is putting it lightly; for years now, Thundercat has been spreading himself throughout almost every musical field he could find. At this point, his presence can be felt in every retro-styled synth and jazzy bassline that appears in modern music.
All this makes "Drunk" even more surprising; not because it feels different from his other music, but because even when it seems like everyone else has caught up to his vision, he proves himself to be one step ahead.
"Drunk" seems to flip on a dime, changing from hard jazz to slow jams to blippy synths to magmatic funk within the span of a few songs. Each song hovers around the two to three minute mark, keeping everything moving at a whirling pace. Emotionally, the songs constantly jump around in a similar fashion; one particular notable string of songs goes from "Goku f***ing ruined me" ("Tokyo"), to a line discussing police brutality ("Jameel's Space Ride"), to a hilariously spiteful cry of "Imma throw you in the garbage" ("Friend Zone"). The album constantly shifts from jovial to serious, love-drunk to loveless, fearful to joyful.
His collaborators help shape his oddball vision, from Kendrick Lamar coming in to get somber on "Walk On By" to Pharrell going full conspiracy theorist on "The Turn Down." Most notable is the presence of soft rock legends Kenny Loggins and Michael McDonald on the soft slow jam "Show You the Way." The song runs along on an engine built of sweet swagger and quiet confidence, all squiggly synths and sparse drums. "Drunk" crams in everything it possibly can musically speaking, yet it still miraculously feels like one coherent piece.
In this way, Thundercat makes an album that not only feels personable, but feels like a person. "Drunk" isn't just about being drunk. It is drunk, constantly changing moods and thinking of new topics and directions to go in. Thundercat has always refused to be categorized, and "Drunk" truly puts him in a category of his own.