In two goal-heavy home games against Columbus High School on Nov. 7, the MSMS soccer teams had a mixed performance: The Frazer team won 4-1 and the Goen team lost 3-2.
Senior striker Sebastian Harvey and junior striker Ngoh Mobit contributed to the Frazer team's score with one goal each. Junior striker Drew Dowdy scored two goals and said the team's technical skills helped them defeat Columbus.
"Columbus was a really physical team, but I think our technicality helped work around that," Dowdy said.
Joseph Barnard, the Frazer team's coach, said his players were able to push through obstacles on the field by improving their strategy.
"I think they did very well," Barnard said. "They persevered through some things [in the first half], and they came back in the second half and shored up some more defensive woes, communicated a little bit better and put together some better runs on offense."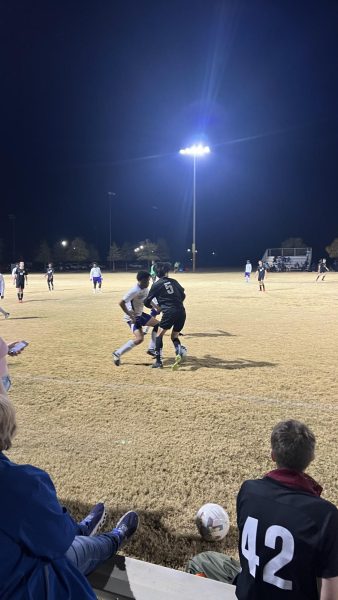 Both teams faced unexpected setbacks due to physical injuries. For instance, senior goalie Vincent Wang left the field after receiving an accidental kick to the face by an opposing player.
Despite the Goen team's loss, junior goalie Adair Gaines said she was satisfied seeing Goen players' growth compared to their skills and experience at the beginning of the semester.
"Even though we lost, I still felt pretty proud of the team overall — we did a lot better," Gaines said. "We did scrimmage against Grenada [last week, and] for a lot of the players, that [was their] first time actually playing soccer. I'd never touched a soccer ball until three months ago." 
Seniors Sabrina Sims and striker Jordan Wright scored the only goals of the Goen game. Sims, who serves as the Goen team's co-captain and plays midfield, said she was proud of the team and thought its players did their best.
"I think everyone gave it their all the entire time; nobody gave up," Sims said. "They really just got out there and put in the work."
MSMS faces Vardaman next at 5:30 p.m. on Nov. 16 at the Columbus Soccer Fields.