The MSMS Blue Waves swim team set a new school record by earning two individual and two relay team medals at the Class I MHSAA Swim Championships held at the Tupelo Aquatic Center on Oct. 21.
Senior Maddie Brain finished third in the 100-yard backstroke with a time of 1:06.80, and co-captain Rushi Nalamalapu finished third in the 100-yard breaststroke with a time of 1:07.25.
Brain, along with juniors Alex Gabitov, Kayla Williams and Ava Bodmer, finished third in the 200-yard freestyle relay with a time of 1:59.86. Nalamalapu, along with senior Dylan Wiley and juniors Max Thompson and Harrison Shao, finished second in the 200-yard freestyle relay with a time of 1:39.13.
Among the Class 1 teams, in their respective categories, the MSMS Goen team finished fourth overall and Frazer team finished sixth overall.
To qualify for the state meet, each swimmer achieved set times within their respective events and advanced through the preliminaries. 
The team, consisting of 11 swimmers led by Coach Chris Chain, Nalamalapu and senior co-captain Lisa Seid, prepared for the state meet by practicing every Monday, Wednesday and Friday at the Stark Recreation Center.
Nalamalapu said even though he barely missed third place in the 100-yard backstroke for the second year in a row, he's still proud of his and the team's results.
"Last year in the finals, I was around 0.16 seconds from getting third. This year, I missed third by 0.2 seconds," Nalamalapu said. "We had a lot of that, unfortunately. I just wanted to get a medal; that was my main goal."
Despite having a busy schedule, Nalamalapu said there's great importance of participating in extracurriculars. Swimming, he said, works a different part of your mind and develops your entire body.
"I would [swim] full out [with] nothing to lose," Nalamalapu said. "In between [last year's] season, I just [grabbed] my equipment bag and went to the pool for two or three hours on the weekends."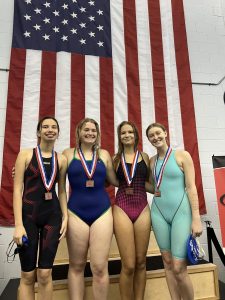 With more swimmers than previous years, the team contains many diverse backgrounds and experiences.
"We had award-winning swimmers from all across the state, starting on club and school teams," Seid said. "Although some of these swimmers have probably competed with each other [before coming to MSMS], it was all put behind to create a bond."
However, the journey to success is never easy. Brain and Thompson said this year's season was far from the ordinary.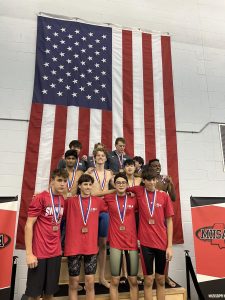 At the beginning of the season, the Frazer relay team struggled to fill the last position due to additional practice. Despite it being his first year swimming competitively, Thompson took the stand. 
"[The team] was very helpful and positive and really great to me," Thompson said. "It was a fun experience."
Only a week before the state meet, Brain suffered an ankle injury. Nonetheless, she still dove into the pool and completed her events — even if that meant wearing a KT tape around her foot. 
Although the season has ended, swimmers said they are already anticipating next year and have goals of improving and setting new records.
"I want to improve my dives and flip turns," Thompson said. "[I] also want to get my 50 [yard] freestyle time down a second or two."
Chain said he's very proud of his swimmers for their progress and results throughout the season.
"They really stepped up when it counted the most," Chain said.