Editor's Note: MSMS chemistry instructor Elizabeth Morgan won a similar award to Charles Yarborough's Yale Educator Award, the MIT Inspirational Teacher Award, in 2022. MSMS alum Kevin Liu nominated her for this honor.
MSMS history teacher Charles "Yarby" Yarborough recently received the prestigious Yale Educator Award for the impact he has made in his students' paths toward excellence.
The honor is presented by the Yale University Department of Admissions based on nominations from their incoming freshmen. Yarborough was nominated by MSMS alumna Hildana Tibebu and was one of 80 high school teachers nationwide and three educators from Mississippi chosen for the award this year. 
"I'm really appreciative of the Yale Educator Award because to me, it's a sign of my having had a positive impact on [Tibebu]," Yarborough said. "I'm thankful she thought of me when she learned about this award, but I also recognize that every faculty member here has the opportunity to influence and shape people's lives. We really do have the best teaching jobs on the planet. I'm grateful for that."
"
"I approach students with a kind of mutual respect and care," Yarborough said. "I try to challenge them to be better than they sometimes think they can be. I think enthusiasm, knowledge and my passion for what I do resonate with students."
— Charles Yarborough
Yarborough said his teaching style follows his general rule for life: Treat people the way you want to be treated.
"I approach students with a kind of mutual respect and care," Yarborough said. "I try to challenge them to be better than they sometimes think they can be. I think enthusiasm, knowledge and my passion for what I do resonate with students."
Tibebu said Yarborough's classes were one of a kind. She said she has not met a teacher at Yale who possesses the same enthusiasm as Yarborough for the subject they teach.
"I don't think anything could ever resemble [Yarborough's] classes. Not even Yale can replicate what he has created," Tibebu said. "Even just the setting, with the historical and random objects everywhere, is unique to him. It is reminiscent of history all the way through, from the room to the materials."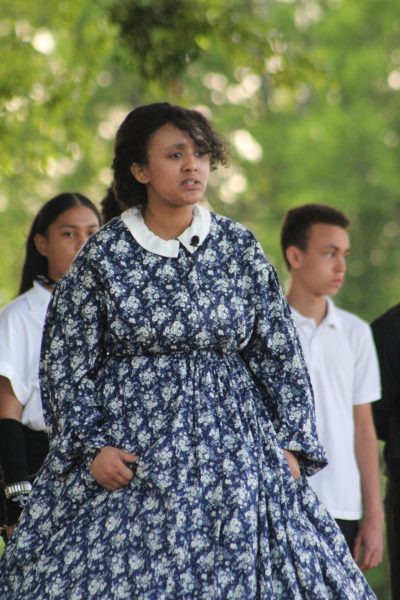 Junior Sam Neathery takes Yarborough's Tales from the Crypt class and said Yarborough's classroom decorations and genuine guidance on student research projects have together aided their learning. 
"I didn't have much information on my person for the Tales project, and I went to talk to him about it. We did just a tiny bit of research together, and he said, 'Oh, she had 17 kids. You could talk about that. Research birth rates and marriage ages for the time period. That would make a really good research paper,'" Neathery said. "Now that I'm [looking for sources following his suggestions], I've found so much information [to further my research]."
Beyond the annual Tales from the Crypt historical research and performance project, Yarborough said he encourages students through his MoreStory initiatives, which are various projects where student research expands public knowledge of historical persons and events. He focuses on using primary documents to learn about history and requires students to go to the library. He also emphasizes the impact of what happened in history, not the specific dates. 
Yarborough said he teaches the way he would want to be taught. 
"I think we're engaging in a kind of investigative history," he said. "We're investigating documents to uncover a story. I think that engages students. In college, [there] were professors who engaged students as partners in learning. I saw that was effective. I liked it, and I wanted to emulate it. It's not just an enthusiasm for the subject and what I teach [that motivates me]. It's an enthusiasm for engaging students." 
Yarborough has taught at many places across the country. He first formally taught in New Orleans, Louisiana, before going to the University of Mississippi for his graduate degree, where he developed a curriculum to teach adult literacy through oral history and folktales. After graduate school, he taught at Mississippi Governor's School, a summer program for high schoolers held at the Mississippi University for Women. From there, he came to MSMS. 
Yarborough said he's still at MSMS because he gets to work with talented young people.
"I have the freedom to explore projects and topics that interest me, and a lot of those projects and topics are inspired by students' interest," Yarborough said. "MSMS provides the freedom of working at a college level and combines it with the ability to work with really talented high school kids."
Tibebu said the MoreStory Projects also encouraged students to interact more with their community because they must be collaborative to excel in Yarborough's classes.
"At Yale, we don't really go off campus and interact with the city. [Yarborough] has these connections to people, and he knows how to keep in touch with people and how to always make people feel included in their community," Tibebu said. "I don't think I'm taking any classes that are like his classes, and that just makes me cherish what I had during those two years a lot more. Yarborough was phenomenal."