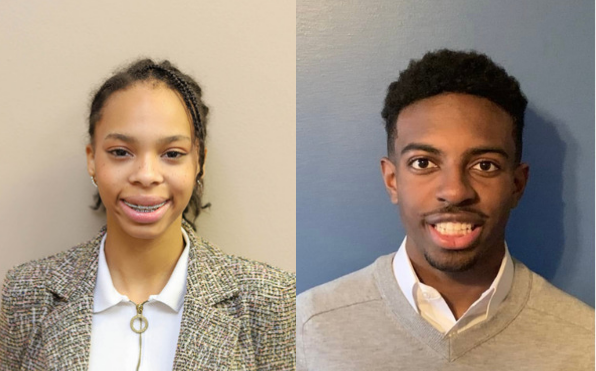 MSMS seniors Sydney Beane and Dylan Wiley were selected for the Gilder Lehrman Institute for American History's Student Advisory Council and are among approximately 180 other high-achieving students nationwide selected for this position.
The Gilder Lehrman SAC consists of a diverse group of middle and high school students who share a passion for American history and a goal to improve education for K-12 students. Council members provide valuable feedback on resources and documents about American history for schools. They also serve as speakers for the institute's four book prizes, board of trustees meetings, the annual gala andother events. Virtual meetings are held every other Saturday of each month at noon.
Chuck Yarborough, an MSMS history teacher, introduced both Beane and Wiley to the program. 
"Sydney and Dylan are amazing students with wonderful historical insights drawn from their experiences as well as their studies," Yarborough said. "Sydney developed an exceptional Tales from the Crypt performance from her research last year, and Dylan created an extraordinary performance for the Eighth of May Emancipation Celebration."
Beane said her passion for history encouraged her to apply.
"As a student who has excelled in and enjoyed history classes all of my life, this is a great way to put my passion to work," Beane said. "I have always asked questions to my history teachers, almost critiquing what they taught, to better the education of my peers and me."
Wiley said history has always been important to him. 
"History was always something special, from learning about Aztec farming tactics to [my father's] friends' experience being drafted to fight in the Vietnam War," Wiley said. 
As a council member, Wiley said he hopes to gain more knowledge about history and how it connects with his education.
"Hopefully, I find more people like me who indulge [in] history as much as I do. [I also hope to] enlighten myself on other parts of history I may have overlooked or have not been introduced to," Wiley said.
Beane and Wiley said they strongly recommend the Gilder Lehrman SAC program for any students interested in history and social sciences who want to further develop their passions.
"The application process was very simple. I think everyone should give it a shot," Beane said. "It is an amazing opportunity, and there are only meetings once a month."