The MSMS Dramatic Performance Club displayed its members' skills with Improv Night in Shackleford Auditorium in front of 80 students — about one-third of the student body — on Sept. 6.
Improv Night allowed the audience to submit prompts on a sheet of paper, which were drawn at random. The cast members reenacted the scenes almost instantly.
Thomas Easterling, the dramatic performance teacher, started Improv Night about 10 years ago when he first began teaching the class. The event is designed to make students more relaxed with each other, so they can work together more easily. 
"Improv Night is something I came up with for purely selfish reasons," Easterling said. "I wanted the students in the class to feel comfortable with each other. The reason we do improv first is so that the students don't freeze up when somebody drops [an unexpected] line. I say that improv is selfish for me because I want the students on stage to thrive when they actually have scripted material in front of them later this semester. [Improv] builds such wonderful trust."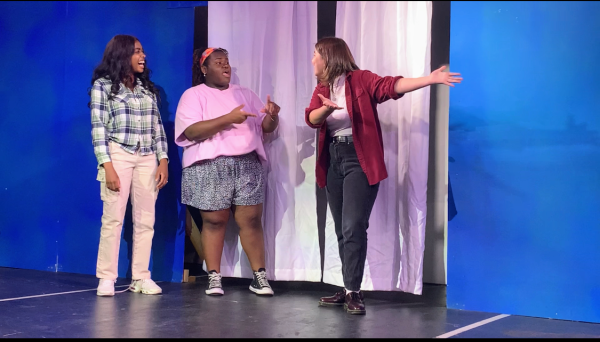 In preparation for Improv Night, the cast members played acting games and practiced with actual prompts. After students responded to the prompt, they discussed what made their response to the prompt interesting. Senior Annadele Beckman said they did this a lot throughout the class. 
"I was pretty excited for [Improv Night]," Beckman said. "We practiced for it a lot. Then [Easterling] would say he was really excited for it, which got us excited for it. Nearing [Improv Night], we got kind of tired of the same prompts because we only had one set of them. So when we got random prompts, it got so much more fun again."
Senior Rusleen Bhalla said her favorite part was watching Dr. E trying to improv.
"Improv Night was so much fun!" Bhalla said. "I loved watching everyone, and my friends and I were laughing the entire time."
Senior Iysiahs York rated Improv Night a 10 out of 10.
"I had a great time watching, and there were plenty of hilarious jokes," York said.