Vision remains among best of Miss. student papers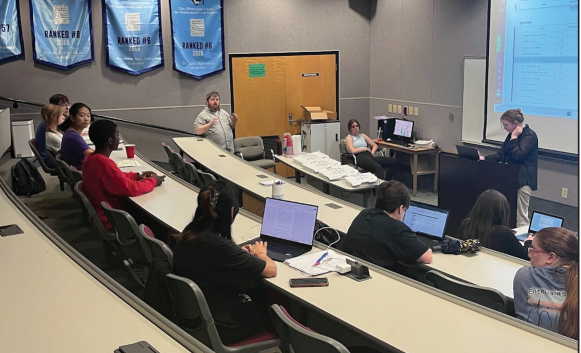 The Vision was once again named one of the best high school newspapers in the state this year, earning multiple club and individual awards at the Mississippi Scholastic Press Association's Best-of-Journalism Spring Convention held in Oxford last month.
The newspaper won Opinion Writing of the Year and earned finalist spots for Best Overall Publication, Sports Writing and Online Presence. Three junior staff members won individual awards: Iris Xue won Review of the Year, Levi Stevens brought home the Editorial Cartoon of the Year award and former Vision member J.R. Walker won first in the Sports Writing category.
Xue said writing various articles, from her winning review "SZA's SOS is a force to be reckoned with" to covering MSMS student events, has brought her closer to her interests and peers.
"I was very excited and honored when I heard the news from Mr. Smith!" Xue said. "Writing a variety of articles for The Vision throughout the year, I've opened my eyes to new topics I had never considered before and simultaneously learned more about my old passions. The Vision has been one of the most rewarding communities I've ever been a part of, and I'm grateful for every opportunity it has given me to connect with my peers in the MSMS student body over topics we care about." 
Walker says his winning article, "Strong state swim meet finish shows promising future of Blue Waves", was a surprise. 
"It was shocking to win Sports Story of the year because it is only my first year writing for a school newspaper. It felt like my hard work and dedication to journalism paid off," Walker said. 
Stevens also says his Editorial Cartoon of the Year award was a shocker. MSPA awarded his "First Week at MSMS" comic. 
"I didn't actually know I was nominated for Cartoon of the Year, so it was really surprising!" Stevens said. "I had a pretty packed schedule at the time, so I didn't spend a ton of time on it. But, I think it turned out well. Apparently it was award-worthy!"
In all, more than half of the Journalism I class was recognized by MSPA. Recognized junior class members, senior editors and club participants include juniors Sebastian Harvey (two-time Editorial Cartoon of the Year finalist), Noah Lee (Review of the Year finalist), Mariane Powell (Sports Story of the Year finalist), Stella Savell (Feature Story of the Year finalist), Walker (News Story of the Year finalist), Xue (two-time News Story of the Year finalist) and senior Madison Echols (Opinion Piece of the Year finalist).
Additionally, Vision Advisor and Journalism I and II Adjunct Instructor Carl Smith was a finalist for Adviser of the Year.
"This is the second year The Vision has won either best newspaper in the state or was named a finalist for the award, and that shows how much hard work and dedication seniors put into the club while attending one of the most academically challenging schools in the country," Smith said. "The Press Association's recognition of our juniors is fantastic, but the entire Journalism I class and all our non-class club members need to be recognized for their contributions. Without them and the seniors' leadership, The Vision would not have won an award for its opinion section or been recognized for other overall efforts."
"Editor-in-Chief Lexi Holdiness and her staff will graduate knowing they produced a quality product, one that challenges rising seniors and the incoming editorial board to build upon," Smith added. "The Vision consistently sets the bar for high school journalism in the state, and I'm proud of all of my students."