Xue: Swift's Midnights is the epitome of a concept album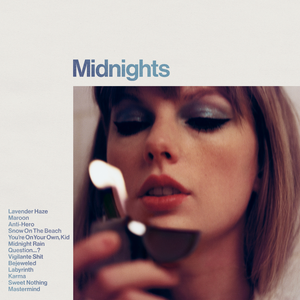 With faceted metaphors and layered lyrical storytelling, Taylor Swift's 10th studio album, Midnights, is the epitome of Swift's best musical qualities and represents what she does best: telling personal, relatable stories that explore slices of her life.
Midnights is Swift's latest album since releasing her re-recorded albums Fearless (Taylor's Version) and Red (Taylor's Version) in 2021, and it shifts her discography back to the realm of pop after her brief folk-pop eras in 2020's sister albums folklore and evermore. Fans anticipated Midnights' release after Swift announced it at the 2022 MTV Awards and dropped track titles through her TikTok series "Midnights Mayhem with Me."
According to Swift, Midnights captures the story of "13 sleepless nights throughout her [life]," and follows "a journey through terrors and sweet dreams … the floors we pace and the demons we face." More than anything, Midnights is a layered concept album that encapsulates the worries and wonders in the late hours of the night through critical self-perception.
The album starts off with Swift's familiar theme of scrutiny in the public eye in the bright, pop declaration of "Lavender Haze," where she rejects the inherent stereotypes and scrutiny of the 1950s phrase for love. Instead, she compares her blissful relationship to a dizzying haze when she sings, "I feel a lavender haze creeping up on me / So real, I'm d***** if I do give a d*** what people say."
This first track offers just one of Swift's numerous interpretations of love, and other insights are found in "Midnight Rain" and "Sweet Nothing." Swift's balance of metaphors and lyricism in the first track only offers a taste of the range of styles covered later in the album. After this smooth track, Swift alternates between deep, edgy self-analyses and fast-paced pop tracks, highlighted in the shift from "Maroon" to "Anti-Hero."
One unique quality of Midnights is its deeper dive into Swift's self-doubts. "Anti-Hero," one of her most marketed tracks on the album, is especially fascinating for its candid glimpse into Swift's insecurities. Despite the strong pop beat, she describes heavier topics in more detail than her previous discography, covering her body dysmorphia and wicked self-perception. In the lyrics, she claims to be the problem in everyone's lives, perfectly captured in one of her choruses: "I'll stare directly at the sun but never in the mirror / It must be exhausting always rooting for the anti-hero." Though none of the other tracks dive into such detail as "Anti-Hero," similar self-analyses are found in "You're on Your Own, Kid" and "Labyrinth."
Despite more layered lyricism, the album's sound is not new for Swift. Midnights combines the tones and aesthetics of many of her previous albums. The bright pop of 1989, the edgy assertions on reputation and the intricate lyricism of folklore all manifest in Swift's latest release, with some melodies even resembling those of her previous works.
While the similar sound may be a stylistic choice, the similarity may lead some fans to not fully appreciate the new songs. For instance, "Vigilante S***" closely resembles the dark, powerful mood of reputation and frequently mentions revenge, a theme also found in reputation. Another track, "Karma," which Swift has teased for years following the release of Lover in 2019, matches the colorful, vibrant aesthetic of that album.
Though the familiar themes of Midnights may be underwhelming, the album remains popular. In the first week of streaming, tracks from Midnights dominated all 10 slots on the Billboard Hot 100, with all 20 tracks of the deluxe album making the list. Even though the album lacks the thorough storytelling found in earlier eras, Swift's tracks laid together still weave a cohesive and intricate tale of her midnights.