Munoz: Hit the discotheque with 'Hold me Closer'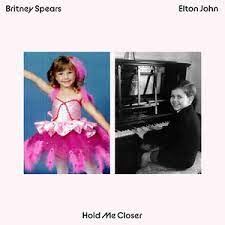 After Britney Spears' 13-year conservatorship ended in 2021, she and Elton John released "Hold Me Closer" on Aug. 26.
Despite Spears stating many times on Instagram she did not plan to release music until 2026, Spears wrote in April, "People have no idea the awful things that were done to me personally … and after what I've been through, I'm scared of people and the business!!! They really hurt me!!! Not doing music anymore is my way of saying 'f—- you' in a sense when it only actually benefits my family by ignoring my real work."
Admittedly, "Hold Me Closer" is neither John nor Spears' best song lyrically or vocally, but it is very similar to Spears' old music with a '90s electronic sound. The song borrows lyrics and melodies from Sir Elton's past hits "Tiny Dancer" and "The One," but the lyrics themselves are bland and repetitive; the phrase "Hold me closer" makes up about 60% of the song. Britney's vocals in the song are surprising since she is using her lower register in the bridge. There have been rumors she has been forced by her label to sing in a high-pitched baby voice for years, which makes it refreshing to hear her use her lower range now that she has full artistic control over her music. John and Spears' voices merge well together and make it sound as if they were made to complement each other, but it doesn't give them a moment to shine because all the musical arrangements make it hard to understand the lyrics. 
Although it is generic and not vocally exciting, the song is catchy. The more you listen, the more you want to get up and dance.
John and Spears' first-ever collaboration debuted at No. 6 on the Hot 100 billboard charts, with high sales; the dance track quickly reached No. 1 on iTunes in more than 40 countries. Both Spears and John were ecstatic; John took to Twitter and said, "I'm thrilled with the response to #HoldMeCloser I wanted to do a fun, happy summer track so was ecstatic when @britneyspears agreed to be a part of it! She truly is an icon, one of the all-time great pop stars & I love her dearly. I hope you all love it!" In an interview with The Guardian, John also revealed Spears recorded her part for "Hold Me Closer" last July and nailed the performance in "less than two hours."
Following the release of "Hold Me Closer," fans have wondered if the "queen of pop" is officially coming back. But this isn't an official comeback for Spears — it is more of a bonus track. Now that Spears is free from her conservatorship and has complete freedom over her music, there is nothing but excitement for what she can do next.