Xue: Sad Songs in a Hotel Room continues Joshua Bassett's soft indie-pop era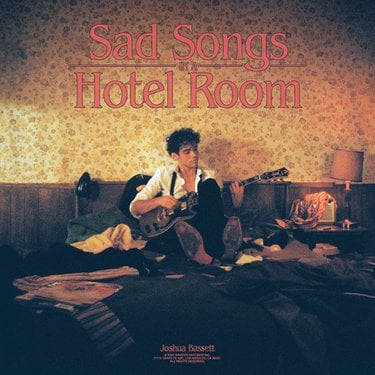 On Sept. 23, Joshua Bassett released his sophomore EP "Sad Songs in a Hotel Room." Though it features heartrendingly emotional and intimate tracks, the album doesn't add anything new to his discography and continues his soft, indie-pop era. Even though the songs don't stand out from his other titles, listeners may relate to Bassett's heartfelt lyrics.  
The 21-year-old musician is mainly known for his acting career, particularly for his role as Ricky Bowen in "High School Musical: The Musical: The Series" with Disney. Bassett wrote original music for the show, and he began venturing into a solo career in 2020 with the release of his single "Common Sense." Soon after, he found his niche in the music industry with his soulful ballads layered over guitar or piano. In 2021, he released those pieces in his self-titled EP Joshua Bassett. Later in the year, he mainly released singles, including "Crisis" and "Doppelganger," which bridged the gap between pop and indie music, sometimes even including gospel-like vocals. 
Sad Songs in a Hotel Room is his second EP, and it adds six more songs to his discography. The collection starts with the title track, which describes Bassett's heartbreak as he mourns in a hotel room he once shared with his partner. The bridge hits especially hard on the audience as he declares, "We checked in together, I never checkout/Guess it's heartbreak hotel 'cause just look at us now." The slow, swinging tune and nostalgic character add to the emotional quality of the song, but the soft vocals make it seem more like background music than a strong single. 
The other songs on the album follow a similar pattern, but some have greater personal aspects. Continuing the distraught atmosphere of the title track, Bassett describes his disenchantment and desire to escape in "LA," yet he also weaves a few childhood memories through the work to give it a personal touch. "Used to It" and "Lifeline" describe much of the same subject matter and delve into the hopelessness of Bassett's relationships, stating he was used to being second in the relationship, even when he almost lost his life due to health issues. At the end of the album, Bassett finishes off with "All in Due Time," but the lyrics and the tune are not memorable enough to capture the audience. 
One notable part of the album is the fifth track, "Smoke Slow," which was released earlier on Aug. 12 as a single, but it didn't garner enough attention from the media. In the song, Bassett creates the metaphor of his relationship burning out like a cigarette and repeats it throughout the chorus. Though the concept may seem creative, the metaphors about smoking and smoking culture are prevalent in pop culture, one example being John Green's book "Looking for Alaska," which extensively explores this metaphor in relation to teenage relationships. Though the song may be relatable to some listeners, it doesn't interpret the content of the song in a unique, faceted way. 
This can be said about the EP as a whole. Though Bassett is a talented young songwriter, it's evident he's only at the beginning of his career. His songs currently blend together into one tune, so none set him apart from other artists of the pop or indie genre. He captures heartbreak and relationship pains in an open, candid fashion, but his lyrics don't fully resonate with the audience. Hopefully, Bassett will deliver more promising music all in due time, not just sad songs confined to a hotel room.