York: Reservation Dogs prompts discussion about Indigenous representation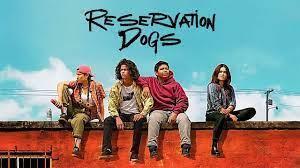 On Aug. 3, Hulu premiered the second season of its TV show "Reservation Dogs." The show is an Indigenous comedy whose premise is quite simple: Four Indigenous teenagers living in rural Oklahoma partake in mischief around their reservation as they try to make it to California. When prompted with only the title and premise, many Native Americans are hesitant with wanting to watch the show. Why?
Since the dawn of film, Hollywood has failed to depict Native Americans correctly. In films including "Stagecoach" (1939) and children's cartoons including "Peter Pan" (1953), Native Americans have always fallen under a stereotype. Even though each tribe is unique in regalia and traditions, "Indians" have always been shown wearing headdresses with paint covering their faces while dancing around a huge fire in the middle of teepees; of course, this was only shown if they weren't already attacking white settlers on horses. This horrible depiction leaves many to assume all Indigenous people are ruthless savages. However, "Reservation Dogs" has been a huge hit with all tribes across America. What makes "Reservation Dogs" portrayal of Native Americans any different?
For one, "Reservation Dogs" is monumental in Hollywood history as it is one of few pieces of media in which Native Americans are a part of every process in making the show. From creators Sterlin Harjo and Taika Waititi to its main cast, almost everyone working on "Reservation Dogs" has an Indigenous background. This show was truly made for Native Americans, by Native Americans. 
Secondly, with its all-Indigenous cast, "Reservation Dogs" ultimately tells a story that resonates with many Indigenous people. There is no stereotype in the show, and it rewrites how Native Americans are seen in society today. This show is bringing new opportunities for Native stories. 
Finally, the show is absolutely hilarious. I recommend watching it along with other Indigenous-made films. "Prey," also on Hulu, and "Rutherford Falls," streamed on Peacock, are just a few other recommendations.