MSMS Executive Director: Donald Cook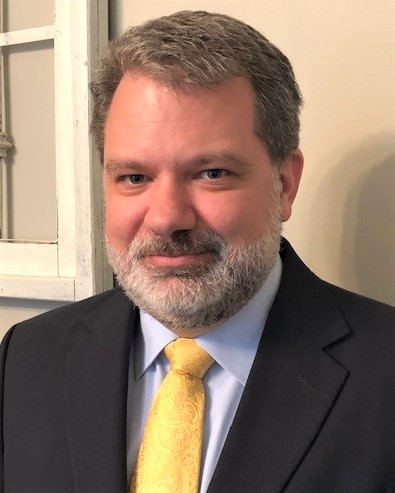 On April 21, the Mississippi Department of Education announced Donald Cook will serve as the Mississippi School for Mathematics and Science's next executive director.
Since the announcement of former Executive Director Germain McConnell's departure in 2021, MDE has searched for a replacement to head the school. It wasn't until April that a candidate had been discovered, selected and approved by MDE to officially become the replacement.
On May 2, I met with Cook for a virtual interview to discuss his plans for MSMS. Everyone wants to know who the new guy is and what to expect for the upcoming years under his leadership. This is what I know.
Background
Donald "Donnie" Cook was raised in Chickasaw County before becoming part of MSMS's inaugural class of 1990. After graduating, Cook attended Mississippi State University as an undergraduate and earned a degree in psychology, although he originally began as a chemistry major.
"I had all of my prerequisites out of the way for medical school, which is what I was hoping to do; however, I am the picture of what not to do if you want to go to medical school. I avoided biology like the plague because I didn't really care for it. I was a chemistry and physics person," Cook said. "It turns out med school is all biology. That seems pretty obvious, but it somehow escaped me."
From MSU, Cook attended Mississippi College for his master's degree.
"I did [attend Mississippi College] because they have a good reputation for getting people into med school, and also it was just convenient. I was living in Jackson, where I worked for my uncle, and I wanted to take some more science classes in preparation to reapply for medical school," Cook said. "I was there from '95 to '97, so I took a couple of undergraduate level classes, but then I got a master's in science education."
Between 1997 and 2018, Cook undertook a number of different education occupations as well as a brief employment in an insurance agency. In 2018, he returned to the other side of the classroom to receive his doctoral degree in education from Liberty University.
"That was also a matter of convenience. I looked at several schools, and I was not in a position where I could quit work and go to school full time. I was a full-time [student], but I was also working," Cook said. "Liberty was just the cheapest option, and it has a good reputation with like 90,000 online students, so they do a good job."
Interestingly enough, Cook's dissertation was written about online homework and researching its use in classrooms.
The application process
Cook underwent the application process as a candidate for the executive director's opening during the fall semester, but all candidates were thrown out until a second reviewing committee was formed for a spring application process.
"I have a friend who is on the committee, and she shared with me that the Department of Education people were not very forthcoming in their process," Cook said. "She didn't know what the status was [for the fall application] and if they were going to make any offers and all the sudden they said 'We're just not going to offer it to anyone' and they brought in Mr. Rick as the interim."
Cook was then invited to reapply for the position.
"We had a different team that was doing interviews. I had support from Johnny Franklin, who was the very first director at MSMS. He gave me advice through the process," Cook said. "Dr. [Kim] Benton was the lead for this one, whereas it was a different person in the fall. We had a Zoom interview … and then they called to see what my availability might be for me to come in person and meet with [State Superintendent of Education Dr. Carey Wright], which I did."
When the job was offered to Cook, he said he gladly accepted the new opportunity.
Plans for MSMS
Cook's plans for MSMS focus on connecting with the schools various stakeholders and improving educational outcomes and possibilities.
"I want to work very closely with the foundation, because the foundation provides support for room and board fees for students who are in need, they provide some of the technology used, they provide some professional development for the faculty and they can open up two or three more spots because the budget doesn't allow us to be at our full capacity," Cook said. "I want to do a lot of evaluation on the condition of the facilities; I know the dorms could use some work. Of course, we have the renovation plans in place, and I understand there are some for Hooper as well."
On top of facility evaluation, Cook also wants to be involved in the actual life of the students and faculty on campus.
"I want to talk to every single staff member, faculty, staff, residence hall staff and just see what we need. I want to talk to students, get their concerns and start to build another big thing: I want to have a strategic plan," Cook said. "I want to spread MSMS across the state as much as possible."
In describing his mission statement, Cook said he is committed to the educational goals students strive to achieve.
"I really want to have every student individualize their education, so I want them to have the opportunities to study what they're interested in. We can utilize technology for that," Cook said. "We could offer to students who want to do something more specialized than what we're able to offer in large groups, they could sort of do an independent study on a topic they're interested in. It's on my heart to have more of an individualized education."
Of course, I asked Cook why he felt he was right for the job.
"As far as MSMS is concerned, I know what it's like to be a student there. I know what it's like to be on the residence hall staff. I know what it's like to be a faculty member. I've been there, done that," Cook said. "I think my experience has uniquely prepared me to do the things that I need to do."
Remember the brief insurance job I previously mentioned? Cook plans to use his experience with that to help him lead MSMS.
"I had to make calls on businesses for the insurance job, and it made me unafraid. It was with Aflac. Most people have heard of the company, but they don't know what they really do. I was teaching, and my goal was to educate them on what the company was all about," Cook said. "I was pretty determined to get in front of them and make my case. That was a valuable experience for this job because I want to get in front of the Legislature; I want to get in front of people who can provide to our foundation or give money to the school directly. At first I thought it was an oddity in my résumé, but now it's all coming together, and I think it's going to be useful for me."
Cook starts his new role June 1, and the summer holds plenty of opportunities.
"I want to observe [summer camps] and offer whatever assistance I can. I want to talk to all the stakeholders, and I'm really just going to learn what we do in the summer," Cook said. "I'll be helping with whatever guidance we need. I understand some of our directors are fairly new in their positions, and I want to offer them whatever they need to have to start the next school year off and see how we can make that the best school year we possibly can."
In our interview, I prompted Cook to discuss the cultural environment MSMS fosters and how he envisions himself acclimating.
"I know there are lots of different viewpoints there, and my goal is to be apolitical. I worked for Mr. [Charlie] Brown. He's sort of the example I want to follow, and I really never knew what his political leanings were. He was for whoever was for MSMS, and that's what I'm going to be," Cook said. "I want that to be reassuring, and I want students to know that I am for them in fostering that environment where they can really thrive. I look to embrace everybody and help them find a community they really thrive in."
In closing, I offered Cook the chance to give a statement to the entire MSMS community as the new executive director in the lens of the upcoming transition.
"I was an evaluator for Western Governors University. They have these eight or 10 tenants, 10 little nuggets to live by. One of those is student obsession. In that idea, everyone, from the people who clean the bathrooms to the course instructors all the way up to the president, have in the back of their minds, 'How can we make life better for our students?' and that's really the environment I want to foster," Cook said. "I want it to do that at MSMS; I want it to be all about the students. We've always had a great staff, but I just want to make sure that's at the forefront. Student obsession is the main thing I want to bring to the table.
"Ms. Richardson wrote a book about a brief history of MSMS, and she described several of our former directors as school men. What that meant was they were fully devoted to public education, they were all in and serving in sometimes a self-sacrificial way. They gave up themselves and were 100% dedicated to what they were doing, and sometimes that meant making less money. But they were also well liked and respected and revered," Cook added. "You have to walk a line between having some discipline because we're acting as the parents, but we also want to let y'all be as creative as possible and run with your ideas. We want to foster the brightness and creativity that MSMS is, and I want to give all that I am to that."