Vision receives newspaper of the year award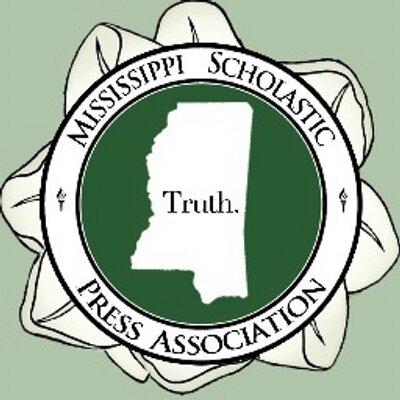 The Vision earned best high school news publication honors during the annual Mississippi Scholastic Press Association awards this March.
The newspaper was also recognized as having the best sports writing and online presence in the state and was a finalist for best news and feature writing, opinion writing
The MSPA described the newspaper as "doing more in terms of story variety, reader services and volume than its competitors" in its awards announcement. 
"It was clear that its editors, designers and writers understand their audience and gave them their best," the MSPA announcement stated.
Mississippi School for Mathematics and Science senior and Vision Entertainment Editor Caleb Jenkins (sports writing) and junior staff writers Hangila Ceesay (opinion writing) and Christina Zhang (reviews) were also recognized as finalists in individual categories, and Zhang's sports writing submission won Best Sports Story.
"Zhang immediately covers the most important fact of the story (who won!), then follows up with excellent stats, quotes and scene-stealing details. Great sports writing here," the MSPA announcement stated. 
Vision staff members said winning such achievements will highlight the importance of school newspapers in general to the public.
"I think this type of recognition for school newspapers across Mississippi is crucial," Zhang said. "It's great that high school journalists can feel like there are others who share the same interests and passions as them."
"I'm glad we get the recognition because the depth of our efforts is [often] invisible to the readers," Jenkins added.
For Zhang, winning Best Sports Story with "MSMS boys soccer team hurdles Heritage Academy in scrimmage" came as a happy surprise.
"When I saw [Journalism Adjunct Instructor and Vision Advisor Carl Smith's] email about MSPA awards, I really wasn't expecting to have won best sports story," she said. "I honestly wasn't even expecting to be nominated. I've only written one sports article, so to have won the best sports story in Mississippi is really great! I'm glad that our soccer team got some publicity."
Jenkins, who earned recognition for "MSMS soccer teams overcome the cold in games against TCPS," noted his lack of experience with sports articles.
"I don't write sports articles often, but I'm glad I could be recognized for my effort to diversify my writing," he said.
Despite many writers' inexperience, Smith said he had no doubt the organization would win at MSPA.
"The Vision's success is a reflection of its staff's sheer talent," he said. "The newspaper is run by the best and brightest of the state, so it's no wonder their talents translated into accolades." 
Vision staff members do not plan to stop with this one achievement. Many individuals said they are looking forward to next year as another chance to continue writing, whether it's for The Vision or for their respective collegiate paper. 
"The Vision has become more than just an extracurricular for me," said Zhang, who will take over as entertainment editor. "I genuinely love having this outlet to express my opinions and ideas and the ideas and opinions of my community!"
"I think I will continue writing for the newspaper in college because I feel like I can really make a difference in my school community by writing articles that are both informative and entertaining," Jenkins said.