'Dune:' This is only the beginning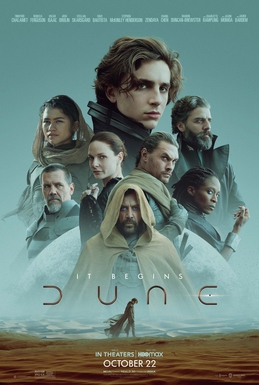 Action-packed, drama-oriented and nothing but suspense, the recent sci-fi phenomenon "Dune" is everything to expect for a new breakthrough series. The new cinematic adaptation of the 1960s book series checks every element for a timeless saga. 
Frank Herbert's science fiction books are now on their second round of cinematic adaptations. The first "Dune" film was released in 1984 and directed by David Lynch. The 2021 rendition directed by Denis Villeneuve takes a different angle to relay the intricate plotline by utilizing several award-winning actors, including Timothée Chalamet as Paul Atreides, Rebecca Ferguson as Lady Jessica and Zendaya as Chani. 
From the first frame, "Dune" has the full attention of the audience. The eerie background music paired with the almost random scene clips and Zendaya's quiet voice sets the tone for the entire exposition. The opening scenes eventually bleed into the dreams of the protagonist, Paul.
The importance of Paul's dreams and visions paint the screen periodically, but a large portion of the film's run time is taken up by flawless action scenes. The physical conflict segments are performed impeccably, and each holds a vital part to the storyline.
The largest action scene is nothing less than blood and brilliance. There's so much violence and chaos occurring that it has the inverse effect compared to the traditional fighting scenes. In the main battle, there is more agony than energy. It's like watching a city crumble to nothing. The remorseless mayhem accompanied by the melodramatic background music creates a scene that transforms the movie completely.  
From this point on, there is only one goal remaining: survival. Once the total destruction aspect is over, the characters must make their journey across the unrelenting desert. Here, the film begins to solidify its roots in a plot while the exposition fades into the rising action portion of the storyline. 
And then the credits roll. The movie ends before it could even taste any flavors of explanation. In nearly three hours, the movie only manages to set up the plot for future films that will hopefully hold all the answers.
Although it has its disappointments, the first film in the new "Dune" series is still a cinematic masterpiece. 
From start to finish, "Dune" never loses the attention of the audience. There is always something more; there's always a question that remains unanswered. There's no real denouement, only a connection that seamlessly sets up for the next addition to the series, which is currently set to release in 2023.
Even in the film, the unanswered questions are acknowledged. There will be more of "Dune" because "this is only the beginning."