Lil Nas X digs deeper on first full-length project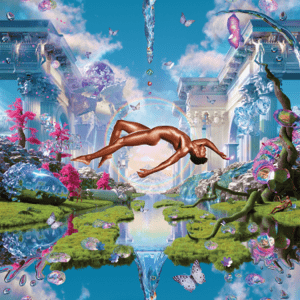 Lil Nas X has proven his prowess in terms of making catchy, chart-topping singles, and now he has made his first foray into album territory. While many aspects of the album largely live up to expectations, some moments on the tracklist fail to meet the standard set by the artist's previous work.
MONTERO serves as a more in-depth look at Lil Nas X as a person, as well as an artist, and delivers a fair amount of emotional depth. X wants us to know he is more than just a one-hit-wonder who made a funny country-rap song two years ago. 
In the opening track and lead single "MONTERO (Call Me By Your Name)," X expresses his desire for a physical connection regardless of whether love is involved. The track features some of X's best lyrical work to date, with clever lines like "I'm not fazed, only here to sin / If Eve ain't in your garden, you know that you can," as well as a catchy, yet unique chorus. 
The same can be said of the following single "INDUSTRY BABY," which sees the rapper celebrating his success and proving he is to be taken seriously in the music industry. Throw in a feature from Jack Harlow, and the song's popularity is pretty self-explanatory. 
However, not all of the album's material can measure up to the success of the singles. The song "THAT'S WHAT I WANT," for example, presents some of the album's weakest songwriting, with achingly simple lyrics and a chorus that could be placed in just about any millennial pop song from the past few years. The song "ONE OF ME" is also quite weak in its lyricism, with its chorus of "I like this, I don't like that / Do this here, don't you do that," which couldn't even be saved by a piano feature from Elton John. 
Now, this isn't to say the singles are the only good songs on the album. For example, the song "DEAD RIGHT NOW," despite its somewhat stripped back sound, resonates a dark, yet triumphant mood. The track "SUN GOES DOWN" is a well of melancholic emotion, as X reflects on feeling like an outsider his whole life, but manages to find happiness and acceptance in embracing himself for who he truly is.
The closing track, "AM I DREAMING," takes on a similarly wistful tone. X, joined by none other than Miley Cyrus, pleads not to be forgotten, expressing fears of fading away from the public conscious in a genuinely chilling chorus. It makes for an unexpectedly bittersweet conclusion to an album that is otherwise filled with high-spirited pop tunes, though it builds on the project's emotional depth.
Overall, Lil Nas X's debut album allows him to prove himself as more than just a fad. Although some moments come across as rather mediocre and forgettable, X accomplishes his goal of cementing himself as a genuine artist in his own right.