American Horror Story returns to the small screen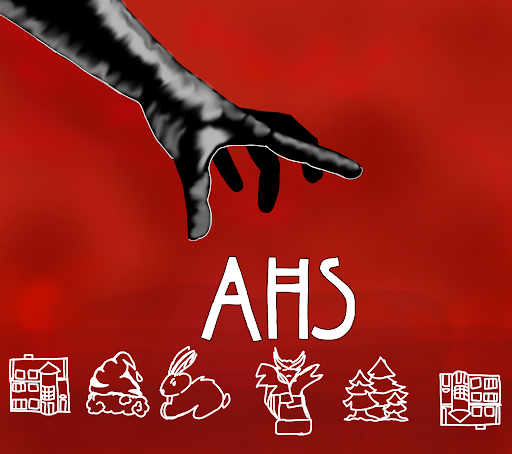 Ryan Murphy's hit horror anthology series, "American Horror Story" (AHS), is back for a highly anticipated 10th season this summer and fall. This season is the first of its kind, dissected into two separate mini seasons: "Red Tide" and "Death Valley". Red Tide will take place by the sea and involve aquatic horror. Death Valley, on the other hand, will take place by the sand and feature aliens. This season debuts Aug. 25 at 10 pm Eastern Time on FX and will also be available on streaming services such as Fubo TV, YouTube TV and Hulu.
Season 10 was originally intended to air in late 2020, but production was delayed due to the COVID-19 pandemic. Fans are thrilled for their favorite actors to make a comeback on their screens this season, but especially for the return of the iconic recurring actress, Sarah Paulson. The Emmy-winning actress has made consecutive appearances on every season of American Horror Story except for season 9, 1984. Other beloved cast members making a comeback this season include Academy Award winner Kathy Bates, Evan Peters, Billie Lourd, Lily Rabe, Angelica Ross and Finn Wittrock. A series newcomer that the AHS audience is excited to witness is Macaulay Culkin, who will be joining the cast for season 10. His character is rumored to be crazy and erotic, a big difference from his very recognizable role as Kevin McCallister in the Home Alone franchise.
Fans have high expectations for this season after the last, 1984, was a major letdown. Critics and fans alike described the season as the "worst and weakest" yet. Despite the popular setting and big name actresses like Emma Roberts starring in the season, the storyline was deemed predictable and repetitive. Hopefully with the return of Sarah Paulson, and the extra production time due to COVID-19, Double Feature will redeem the series back to its roots of shocking and gory psychological thrill.The season debuted Aug. 25 at 10 pm Eastern Standard Time on FX and will also be available on streaming services such as Fubo TV, YouTube TV and Hulu.
"American Horror Story" season 10 episodes 1 and 2 spoilers follow
Episodes 1 and 2 from "Red Tide" have aired, and it is safe to say "American Horror Story" has proved itself the supreme TV show for daytime horror– serving an impressive combination of camp and horror. 
The first episode, titled "Cape Fear," introduces viewers to the Gardner family, a three-member family who recently moved to the seaside town of Provincetown, Massachusetts from New York City. The father, Harry Gardner (Finn Wittrock), is a struggling writer, and the mother, Doris Gardner (Lily Rabe), is a failing interior designer. The pair moved their family for an inspirational interlude.
"Cape Fear" serves as a eerie yet innocent introduction to the season, channeling the first "American Horror Story" season, "Murder House," the fifth season, "Hotel," and even some of the 1980 Stanley Kubrick film, "The Shining." Wittrock and Rabe serve as great main characters, and an even better duo as the two played impressive key roles in previous seasons. Unfortunately, neither of them play an eccentric character as previously, with notable roles from Wittrock being Dandy Mott from "Freak Show" and Rabe's being Sister Mary Eunice in "Asylum." The roles of the Gardner family parents seem mildly bland compared to past characters, but the audience knows that there is more to come– as always for Ryan Murphy projects. 
The real scene stealer within the season is already evident from the first episode. The unofficial queen of "American Horror Story," Sarah Paulson, delivers a comedic and shocking transformation into Tuberculosis Karen. Labeled as a "nutter" by locals, Tuberculosis Karen is one of Provincetown's victims of the opioid crisis. The audience first sees her in the grocery store interacting with the Gardeners. Although this character seems to portray a neighborly nuisance, Tuberculosis Karen doubles as comedic relief from the rest of the plot. Another scene stealer is former child star Macaulay Culkin. His character, Mickey, is a sex worker roaming around Provincetown, but it is easy to see inner beauty within his character, comparable to Paulson's character.
Provincetown at its best seems like an aesthetic East coast summer beach town, and at its worst seems like opioid addiction central. As the episode progresses, the town continuously becomes more disturbing and nauseating. We see gruesome gored animals around town, and shameless monsters called "Pale Men" scavenging for flesh to feed on. "Cape Fear" starts a slow transition into typical "American Horror Story" shock.
The second episode, titled "Pale," continues the horrific plot of "Red Tide," but Harry Gardner's plunge from a family man with a good balance of personal and work life into a bloodthirsty murderer is too rushed, and the next thing you know he is getting his teeth shaven to satisfy his bloodsucking desires. The downside of having a shorter season dissected into two parts is this feeling of rapid transition. However, a major highlight to this episode was Billie Lourd's character, Lark. Lark is the dark and mysterious female dental surgeon and tattoo artist that shaves the local bloodsucking artist's teeth. This is a stark contrast from Lourd's typical characters in the franchise as a dark girl next door. Lark will easily become a fan favorite.
Although "Red Tide" thus far is less glamorous and theatrical than earlier seasons, an interesting aspect of this season is the unexpected allegory of the creative process and art made at the expense of humanity. The artists' demand for blood represents the draining of society and humanity to fulfill the artist's dream. The constant use of the muse will soon deplenish life from the muse itself. 
So far, the season seems intriguing for those who were earlier "American Horror Story" fans, as the cast and plot is very reminiscent of old themes, however, the two-part season causes it to feel hurried and barren. This season is definitely one of the less glamorous and obnoxious, so those who prefer camp over dynamic simplicity may not like this season.