The Vision Showcase: Nicholas Djedjos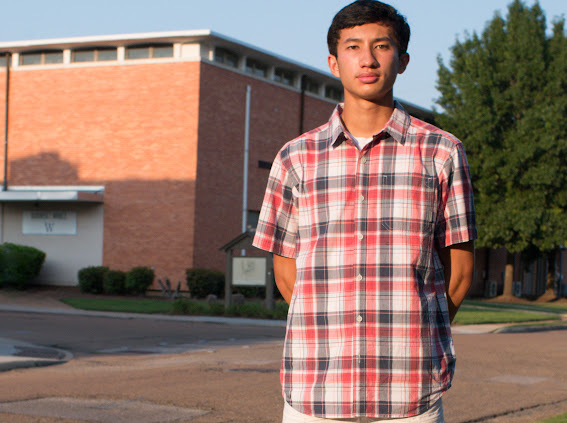 President of the Student Government Association, sports editor for The Vision, and member of the soccer and tennis teams are all titles belonging to senior Nicholas Djedjos.
Djedjos is involved in many extracurriculars here at MSMS and attributes part of this ability to handle so many things at one time to where he came from. Before coming to MSMS, Djedjos was already involved in plenty of extracurriculars at his previous school. 
"I went to Northwest Rankin High School," Djedjos said. "It's a 6A school in Brandon, Mississippi. I participated in student government, Mu Alpha Theta, Science Olympiad, DECA [Distributive Education Clubs of America] and a few other clubs."
When Djedjos found out about MSMS, he was immediately interested in the school. 
"I actually first heard about MSMS when I went to a science fair competition in eighth grade," Djedjos said. "And from there [the thought] was always in the back of my mind that there was this residential school for academically talented students." 
From researching the school, he found there were many opportunities within MSMS that excited him. After coming to MSMS, he noticed more and more reasons he would begin to enjoy this new experience. 
"I realized there were a lot of research opportunities, as well as more advanced math and science classes that I could take at MSMS," Djedjos said."So knowing that, that's why I came here — but one thing I didn't think of at the time was the community. I've really enjoyed being in this community of driven, focused individuals, and they push me to be better than I was yesterday."
Djedjos knew he wanted to be a part of the MSMS student government and school newspaper before he started attending. He enjoys being involved despite the heavy workload that it comes with. 
"I have the opportunity there to really express my creativity, let my voice be heard. And that's why I really joined extracurriculars — to sharpen some skills I have," Djedjos said. "It's tough having a school-extracurricular-social life balance, but I think if you can manage it, it's definitely worthwhile." 
Since coming to MSMS, Djedjos has learned how to balance all of the activities he has wanted to join. He has been balancing being SGA president, sports editor of The Vision, a part of the soccer and tennis teams and an emissary, all on top of regular school work. 
Djedjos is a big fan of staying active. He has played soccer for over 10 years and attributes part of this love for soccer toward his Dad, who he sees as a role model. 
"As a child, he taught me my multiplication tables," Djedjos said. "He really fostered this love for math within me. He got me interested in soccer; there's so many things he's done for me, so he's been a great role model." 
On top of soccer, he also decided to try tennis and it became another sport he enjoys.
"I started playing last year once soccer season ended, and I liked it because it was a new challenge I could partake in with my friends," Djedjos said. 
Djedjos loves finding new ways to stay active not only physically but also in his community. He likes student government and journalism because it gets his voice heard, and soccer and tennis because of the mental and physical aspects. 
Djedjos had a few things to say to those who are new to MSMS.
"So just some words of advice," Djedjos said. "To anyone thinking of applying to MSMS, or as a junior at MSMS, don't be afraid to ask for help with challenging questions. And be aware of your workload — don't try and sign up for too many things. Try and keep your social life and your mental health in mind."