Photo Essay: Prom in the age of covid
May 6, 2021
After plans for the 'covid edition' MSMS Prom were announced, many students voiced skepticism about what a socially distanced evening would be like. From comments during and after the May 1 event, however, it was clear that doubts had turned to delight.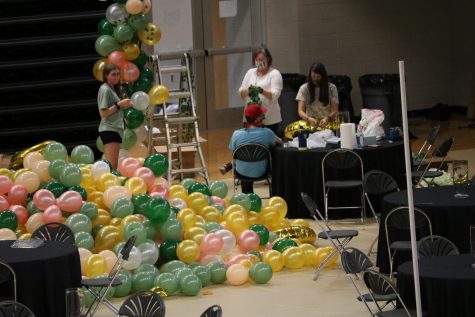 "Setting up for prom took a ton of time but turned out to be so much fun," said junior Sophie Hines. "We set up the balloon decorations and hanging lanterns on Friday night and Saturday afternoon, which was challenging — but leave it to the class sponsors to help pull it all together! Decorating was full of teamwork, which was great because we were able to spend time with the seniors. All the prep that went into prom made the night even more exciting and entertaining!"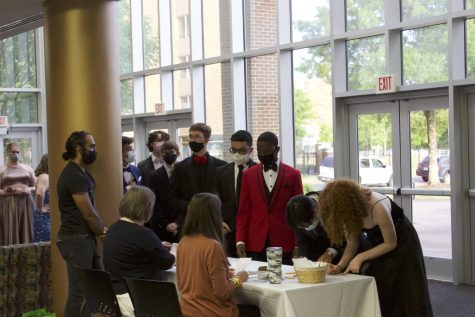 Despite the unconventional times, Prom adviser Lori Pierce said that the event went surprisingly well. "Given the concerns about covid this year and our expectations several months ago about how prom would go, I think we had a wildly successful evening," she said. The World Languages and Speech teacher said that the turnout this year was similar to previous years. All 134 promgoers had arrived by 7:15, and hardly anyone left before 9:00.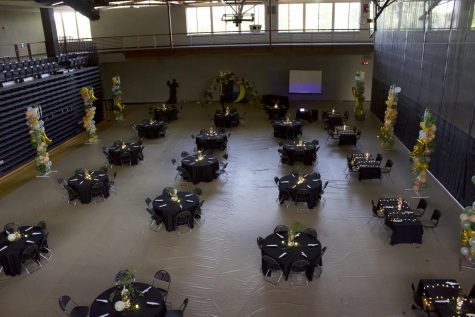 Yin Hung praised the visual aspects of the event. "Prom was really nice this year, especially since it is the last one I will have in high school," said the senior. "The decorations were nicely done along with the fact that my friends were dressed so beautifully!"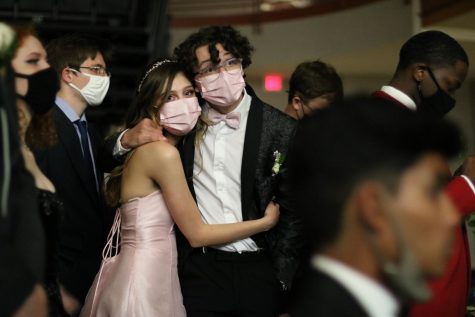 For Alexis Sorg, the evening was unexpectedly fun. "I'm really happy with how it turned out and appreciate all of the work that the class officers put into it," said the junior. "I'm going to be honest, I really didn't think that it would be too much fun because it sounded more like a fancy dinner. However, it was not. Admin let us all dance and have fun, and I had a blast. I'm looking forward to prom again next year!"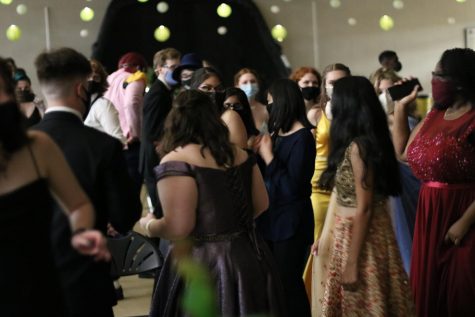 Though students were told that only socially distanced dancing would be allowed, the rules seemed to relax as the night went on and students were able to have a fun time dancing with their friends. The rules, spelled out in emails before the prom, were that masks had to be on except for during dinner and small group photo-taking. That night, students kept their masks on except during dinner, small group pictures and karaoke.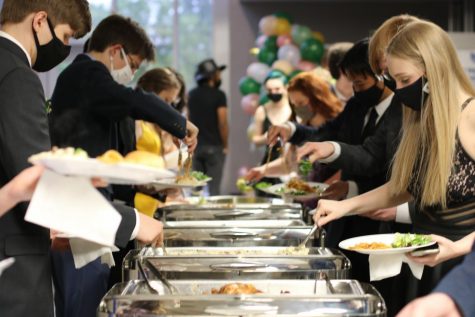 "My favorite part of prom was how it felt, for a few hours, like we had returned to a sense of normalcy as we were able to dance and just have a good time without worrying about the pandemic," said senior Wyatt Shanahan. "My least favorite thing would be the caterers running out of chocolate cake before I got there."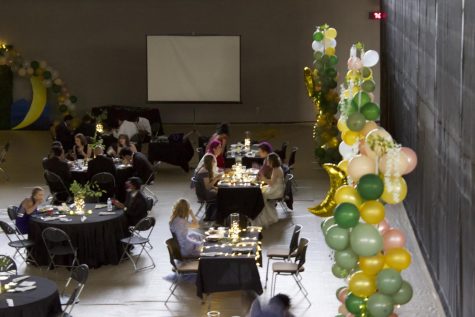 Although most students say that they enjoyed the prom overall, many took issue with the food. The menu consisted of caesar salad, rotisserie chicken, vegetarian pad thai, garlic mashed new potatoes, lemon garlic broccoli, pecan pie and chocolate layer cake.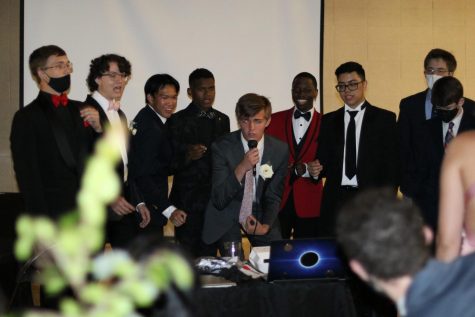 Though the food was disappointing to many students, the energy picked back up during karaoke. "Joanna Dickerson and I participated in karaoke," says junior Reagan Ishee. "We sang 'You Belong with Me' by Taylor Swift. We were both super nervous but felt so happy when everyone started singing and dancing along."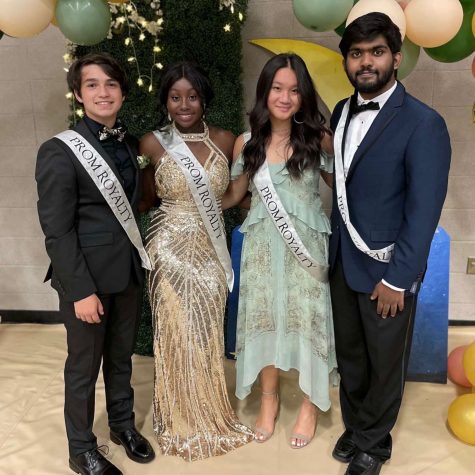 This was the first year that the school awarded non-gendered prom royalty, naming prom "monarchs" and "magistrates" rather than the traditional king, queen, prince and princess. Additionally, in keeping with the covid-era, one MSMS student was awarded a prize for "Best Mask." The honor went to junior Mackenzie Pitts for a sparkly face cover that looked like an upside-down tiara.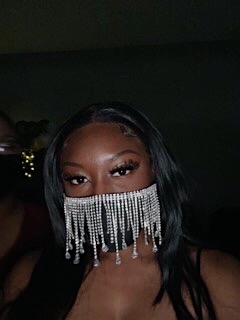 Looking back after the evening was over, one of the organizers voiced both joy and relief. "I was really worried that everything was going to crash and burn because this was our first time hosting a big event and many people already weren't looking forward to it — but it was a Big Bang," said Junior Class President Vineel Vanga. "I was running back and forth everywhere, and it was stressful for all the officers, but seeing everyone have fun just gave us life and I am really happy everything worked out so well."