MSMS STAR Students and Teachers reflect on their wins
MSMS has 12 STAR students this year, the most from any school in the state.
To be nominated for the honor, seniors had to have a composite ACT score over 35 and a grade average of 93 or higher.
In normal years, all 12 of MSMS's STAR Students would have attended the ceremony, held by the Mississippi Economic Council Thursday, April 29 in Jackson, but only the four ALL-STAR Students and Teachers were invited this year due to covid-19.
The 12 STAR Students, along with their six STAR Teachers, are:
Ian Avant and Philip Benge; Luke Bowles and Thomas Richardson; Evan Dickinson and Ian Barclay; Jackson Flowers and Philip Benge; Nathan Lechner and Charles Yarborough; Michael Lu and Philip Benge; Zachary Medlin and Ian Barclay; Anh Mi Nguyen and Shae Koenigsberger; Jack Standard and Philip Benge; Nina Yen Vo and Philip Benge; Aaron Wan and Lori LeVar Pierce; Cameron Wright and Ian Barclay
Of these students, Flowers, Lechner, Wan and Wright were further recognized as ALL-STAR Students, placing among the top 20 students in the statewide STAR Student program. Flowers was also named second runner-up for Mississippi's 2021 ALL-STAR Scholar and received a four-year $16,000 scholarship. His STAR Teacher, Dr. Benge, received a $1,000 award. The remaining three ALL-STAR Scholars received a one-time scholarship of $1,000, and their STAR teachers received $500 each.
Wan was grateful for MSMS's academically rigorous environment, which allowed him to focus on preparing for the ACT and learning in general. However, he believed his activities outside of the classroom were equally important for his academic experience at MSMS.
"I chose Mrs. Pierce because she was very supportive of Speech and Debate, and she helped me further my passions outside of school," Wan said.
Similarly, Lechner chose his STAR Teacher based on his extracurriculars.
"I nominated Mr. Yarborough because I really enjoyed having him as a teacher and appreciated all he did to help with soccer," Lechner said.
"I am deeply honored to be recognized by a student as having an impact on their academic career," Yarborough said. "To be selected by a student as talented as Nathan makes the honor that much more awesome!"
Deja vu
For ALL-STAR Student Cameron Wright, this recognition represented his hard work at MSMS beyond just his ACT score. His STAR Teacher, Ian Barclay, instructed him in six different math and physics classes and was instrumental in his decision to take higher-level math courses at MSMS.
"What distinguished him most as a STAR Teacher was when he came up to me during junior year and put forth the idea of self-studying Calculus II and III over the summer," Wright said. "It ended up being a huge undertaking for me and just the fact that he had the confidence in me to suggest it was a huge encouragement."
Wright, who entered MSMS taking Barclay's Foundations math course, would go on to complete all the single-variable calculus classes during his junior year and successfully finish multivariable calculus his senior year. Wright also took AP Physics 1, Calculus I and a math independent study with Barclay, all of which helped him learn calculus officially and unofficially. At Barclay's suggestion, he also self-studied Calculus II and III over the summer with the goal of placing into multivariable calculus in the fall of his senior year. After learning from textbooks, prep books, websites and Barclay's teaching, Wright mastered single-variable calculus and was able to ace MSMS's multivariable course.
"Being able to go from our lowest mathematical track to our highest one, and then thriving there, all without a hint of doubt, all without a hint of negativity, speaks volumes about Cameron's academic ability," Barclay said. "Cameron was the first person in our school's history to go from Foundations to multivariable in only a year, and it will likely be a long time before another student spans our entire core math curriculum in a similar way."
Taking advantage of MSMS's learning opportunities also translated into more motivation for Wright to improve his ACT score, ultimately leading to his ALL-STAR Student designation.
"MSMS has impacted my learning experience by accelerating it far faster than I could have imagined," Wright said. "For the ACT, being at MSMS caused me to be surrounded with peers who were striving for the same academic excellence I was and that just gave me more motivation to work and get my scores up."
Barclay recognized the importance of providing resources and encouragement to students who dedicated themselves towards learning, as he himself was selected as an ALL-STAR Student when he was a senior at MSMS.
"This made my nomination even more meaningful, because over a decade ago at MSMS, I selected the late Dr. Nancy MacNeill as my ALL-STAR Teacher," Barclay said. "I attended the ALL-STAR ceremony with her in 2007 in the very same room that I attended the ceremony with Cameron on Thursday."
At the ceremony on Thursday, Barclay also ran into his former MSMS math teacher who influenced his teaching style, Bobby Jarrell, when Jarrell's son was awarded Mississippi's top ALL-STAR Student.
"I feel immeasurable gratitude for the students who nominated me, because, although unbeknownst to them initially, they gifted me with not one, but two full circle moments," Barclay said. "Those don't come around often in life."
Beyond the ACT 
Jackson Flowers, the second runner-up to ALL-STAR Scholar, scored a 36 on the ACT in the spring of tenth grade, having previously scored a 35 in the winter of tenth grade.
"I think getting a 36 early on inspired me to achieve more than just getting a 36," Flowers said. "There was no difference between me when I had a 36 compared to when I had a 35, but one got me a $16,000 scholarship and the other didn't."
Instead of stressing about the ACT in his junior and senior year, he decided to pursue his passions, such as math and programming. To get ahead in math, Flowers skipped ahead in his math classes and took several independent studies with Dr. Benge, including Real Analysis, Math Finance, Abstract Algebra and Number Theory.
"Dr. Benge has always been willing to teach about advanced math, and a lot of his classes are as rigorous as college courses," Flowers said.
Though Flowers had committed to the Massachusetts Institute of Technology before he received the scholarship, he was grateful for the pressure it relieved.
"The scholarship makes me feel better about paying for college," Flowers said. "I hope to put it to good use in college so I can learn more about the topics I'm passionate about."
About the Writer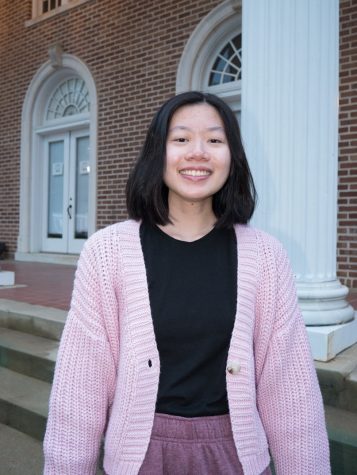 Amy Zhang, Managing Editor
Amy Zhang is a senior from Starkville, Miss. She enjoys math, writing, and (occasionally) writing about math when she's not stressing over the aforementioned....