Student Environmental Awareness League hosts Earth Week events
Covid has nipped many MSMS clubs in the bud this year, but not the Student Environmental Awareness League (SEAL), who planted flowers for Earth Week. Now, behind the holly bushes of Hooper, golden lantanas grow.
Junior and Earth Day organizer Chloe Sharp said that initially, the club didn't know if it would be able to do the planting.
"We talked to the landscaping people at MUW, and they really helped us a lot in planning how we could plant the garden, figuring out what plants would be best for us to plant there and getting us the plants since we weren't allowed to leave campus."
The garden was among a week of activities focusing on environmental sustainability in honor of Earth Day, Thursday, April 22. Throughout the week SEAL hosted events such as a scavenger hunt, step-stone painting, an Earth Day trivia competition and a movie night over Zoom.
"SEAL is a very active club among the officers since we manage the on-campus recycling and send two outreach newsletters a month, but there isn't a lot of opportunity for club members or the student body to get involved," SEAL President Abby Strain said. "I wanted to create something that everyone would enjoy and learn from, and I didn't think that was possible with one virtual event, so SEAL created a week's worth of in-person and virtual events."
Sharp said that with the ongoing pandemic, SEAL faced challenges in making sure the events were affordable and adhered to campuscovid safety guidelines while ensuring virtual students also had the opportunity to participate.
"Earth Week was fairly difficult this year because of covid, but Abby still wanted to make this week great despite that. There were definitely difficulties regarding event planning because of not everyone being in-person, but I feel like we had a good mixture of online and in-person events so that everyone could participate in the events this week," Sharp said.
Destiny Van helped organize the scavenger hunt. It involved two teams that both had to find seven clues.
"It was a long and busy week for me, but planning this event was super fun. There were a lot of people that showed up, and they all said they enjoyed it," Van said. "During the scavenger hunt, there were two teams whose goal was to find all the water bottles with the letters on each to unscramble and solve the riddle that they had. It was a great way to enjoy the fresh air and have a fun treat at the end."
Recalling the week's activities, Strain deemed the event a success.
"I'm glad that I had the opportunity to orchestrate this. I want to educate people on environmental issues and the importance of sustainability, and I think that is well emphasized in the emails we have sent out," Strain said.
In comments before the week unfolded, Strain also expressed the hope that the events would serve as a reminder of the role that clubs can play in MSMS life: "This year has really killed the club-loving spirit of MSMS, and I hope that these events restore that feeling in the people who participate."
Similarly, Sharp hoped that students were able to learn something new about the environment during Earth Week.
"I really hope that this week really gets students thinking about how they can personally help the environment," Sharp said. "Between events every day this week and multiple informational emails going out every day, I hope that the student body uses this week to learn about the climate crisis and make changes in their lives."
By the close of Earth Week, SEAL members and organizers were proud of their efforts in making the event as successful as it can be.
"Everyone involved in planning put in a lot of effort. I am so incredibly thankful to have Earth Day Organizers, Sharp and Van, with such brilliant ideas and willingness to help. SEAL's Vice President Aastha Banga and Junior Ambassador Taylor Wypyski were very diligent with the events and emails they were in charge of, and our Social Media Coordinator Jay Snodgrass jumped into more responsibilities than they had to," Strain said. "Even Dr. Burnes, our sponsor, was very on-board with all of the ideas and helped us plan and accomplish our more ambitious events. It was certainly a group effort to put this on and, in my personal opinion, we did a great job."
About the Writer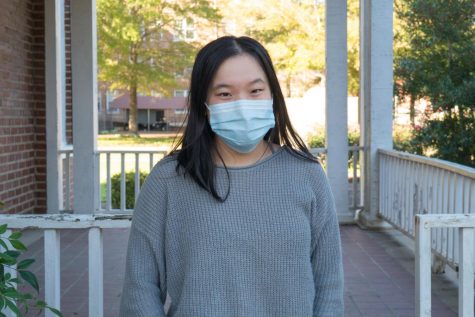 Jessica Yan, SGA Correspondent
Jessica Yan is a junior from Starkville, MS, and is a member of the MSMS swim team, Speech and Debate Club and Mu Alpha Theta. When she's not sleeping,...