'Shang-Chi and the Ten Rings'–Marvel's next step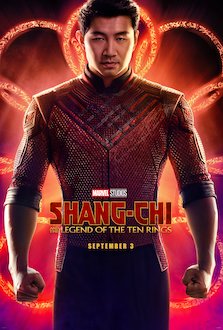 Since December, when Disney released their tentative schedule, Disney has been taking advantage of the pandemic by releasing all-new episodes every week on their platform, Disney Plus. From "Wandavision" to "Loki", Disney will not be without content for a very long while. However, Marvel is already introducing its future by releasing information for a lot of different movies–notably, "Shang-Chi and the Legend of the Ten Rings." 
The plot of "Shang-Chi and the Legend of the Ten Rings" revolves around Shang-Chi, a martial artist who is the king of kung fu. Based on Disney's trailer, Shang-Chi seems to be fighting against an organization of evildoers known as the "Ten Rings." As he goes through many obstacles, such as what seems like saving his significant other, he has to fight the main evildoer, The Mandarin. What happens next will be revealed on September 3, 2021, when the movie is released in theaters.
One thing that really stood out to me about this trailer was how amazing the scenery was. One scene features a beautiful snowy courtyard and another shows water floating in midair. Additionally, the Marvel movies are known for their variety of colors, and Shang-Chi is no different. In many scenes, you can see bright neon colors that resemble sources of power which are simply beautiful. However, to me, the trailer didn't give off the Marvel Cinematic Universe's (MCU) vibe. All I could think about in my head while watching the trailer was the fighting game Mortal Kombat. Overall, the trailer had a lot of confusing aspects and seemed out of place for the MCU. 
What does this mean for the MCU? This actually worries me about the future of the MCU. Based on what I saw from the trailer, MCU seems to be adding a new character to the franchise. This means that there will be a new storyline, family and life to have to live throughout the next years to come. Like I said before, this is expected, yet it seems a little bit out of place. It just doesn't seem like something that Marvel would randomly put into the movie. Maybe Marvel has a plan for this and I hope it's a good plan because I don't know if I can go through any more heartbreak after "WandaVision."
First, we don't really know if this is in the same universe as the MCU. It can be assumed by the trailer that it was; however, since this movie seems to show differentiation from the other movies since there were no other characters from other movies, Disney may be trying to add another timeline to Marvel Studios. If this were the case, I would not enjoy it at all. Due to the complexity of the MCU, a new timeline would bring more confusion to fans and cause Marvel studios to become messy with the two different timelines that it already has (MCU and Marvel Legacy).
Second, if this is taking place in the MCU timeline, why are they doing this now? It seems a little out of place to introduce a new character that has unknown powers– especially after the occurrence of "the blip." There seems to be no room for any more characters in the Avengers franchise. Even if this were the case, this raises questions as to whether Marvel is going to keep replacing actors and characters with a new version of themselves.
Overall, I give this around a 5/10. I believe that this movie has potential whenever it is released and hopefully it will become more clear why they created this movie. I always have high expectations for Marvel and they haven't let me down since "Captain Marvel," so I hope they do not lose their streak with this one.