Taylor Swift is 'Fearless' as she releases her first re-recorded album.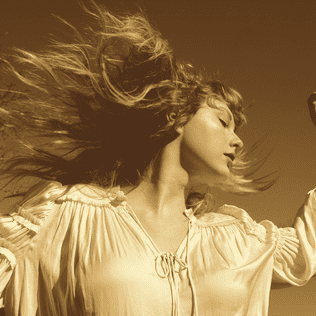 Taylor Swift shook the music industry when she announced that she would be re-recording her first six albums after the masters had been sold without her knowledge.
On Feb. 11, Taylor announced in a letter that her first re-recorded project would be her second album, "Fearless," and that her first single would be, "Love Story (Taylor's Version)."
Fans rejoiced at the news and she quickly reached chart-topping heights not only because of her talent but her dedicated fanbase as well. The song was many people's introduction to her more than 10 years ago, and the taste of nostalgia was irresistible. Taylor sings of her forbidden romance just as blissfully and powerfully as someone who knows how the story ends can. Her writing references Romeo and Juliet as a source of one true love and although she knows the tragedy that awaits them, her passion shows the joy of living in the present without worry of the future. Taylor does a beautiful job of making the song sound familiar to those who grew up with the original, as well as showing her vocal range for a new generation. Her love story is now a love letter to her fans and is part of what makes this album and Taylor so great.
She continued her promotion by releasing one of her six, "vault," (unreleased songs from her catalog) tracks "Mr. Perfectly Fine (Taylor's Version)", reigniting the memories of her short, but eventful relationship with musician, Joe Jonas. No drama remains between the pair as his wife, actress Sophie Turner, showed support for the song on Instagram and Taylor re-posted the message. Taylor's ability to joke about the past while still validating her pain back then makes the album one of her best, even if it technically is telling stories from 13 years ago.
"You All Over Me (Taylor's Version)," another vault song, was released as a single featuring country artist Maren Morris, returning fully to her country roots for the recordings. Taylor and Maren's voices blend in smooth harmony, showing that even though they possess their own talents, bringing them together makes the experience all the better. Her once bitter tone in songs like, "Forever and Always" and "You're Not Sorry" take on a frustration that is only dulled by time and growth, yet is still heard when she sings the songs she wrote so long ago. Her ability to show her young fans that they can look back on the past but not let it consume them is what makes her a role model, and the album so resonant.
Taylor sings the sweet country tunes with less of a southern 'twang' than she did 13 years ago, but her new recordings showcase a new sense of vocal maturity, with her voice being smooth and powerful with control that she lacked the first time around. The youthful innocence is still present but now with a tone of understanding that life moves on, even when it feels like the world is standing still. 
Taylor's release comes at a time when her once young fans are grown enough to experience the kind of heartbreak she wrote about more than a decade ago. Her growth vocally and emotionally both shine through within her music as she sings of heartbreak from so long ago, now with a sense of hope. She sings her old stories in a new way that both former and new fans can love and relate to–proving as both an artist and as a person that you don't have to let go of your past, rather allow it to help you grow as a person and look forward to a brighter future