MSMS tennis team continues their stellar season with a perfect game against Bruce High
The MSMS tennis team is still crushing the court with a 7-0 team win against Bruce High School on Monday, Apr. 26. 
Senior Luke Bowles is proud of the progress his teammates have made since the team's first game of the season more than a month ago.
"We've gotten better every single day and every single match," said Bowles. "We started the season with the right attitude, and I genuinely believe it has translated to our continued success."
Senior Sam Sun echoed Bowles' sentiment while acknowledging the skills which still need improvement.
"I think my technique has improved a lot since the start of the season, which has led to better consistency, especially on my serves and backhand. So far, I've been happy with how I played in all of the matches, but one thing I need to improve is my ability to finish a point, because at the state level, conserving energy is very important," said Sun.
As the spring season approaches, players will have to adjust to the warmer temperature. 
"The sun has been so draining this week, so I wish I had more water before and during the match," said senior Kate McElhinney. "Being outside for extended periods of time in the sun is exhausting, and I think I would've kept some of my energy had I been a bit more hydrated."
The sun did not diminish her confidence in her team's ability to keep up the hard work until playoffs, though.
"We've always been pretty hopeful that we're going to do well at the playoffs, but I think today started to solidify that. Not only did we win as a team, but we also won every individual match against Bruce High School too. I'm incredibly proud of everyone, and I hope our season can continue the way it has been going," said McElhinney.
Bowles is also hopeful that the team's efforts will pay off, and he is looking forward to closing the season out strong.
"This match was really just a good chance to work on our skills before we really start playing tough in the later rounds of the playoffs," said Bowles. "We've done everything right so far, and I hope it culminates in a state championship."
About the Writer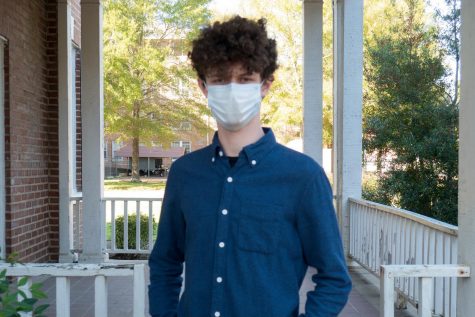 Caleb Jenkins, Copy Editor
Caleb Jenkins is a junior from Columbus, MS. He has a strong passion for film and hopes to one day become a director. Caleb is also a collector of physical...