After getting her 'drivers license,' Olivia Rodrigo is feeling 'deja vu' with her new single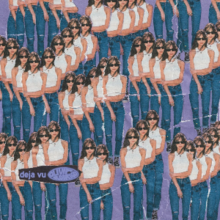 Olivia Rodrigo has followed up her viral debut single "drivers license" with another powerfully somber track, "deja vu." Similar to her first hit, the song takes a unique look at the tried-and-true heartbreak ballad, with a clever narrative focus on repetition in a new relationship, or "deja vu" as the song's title implies.
Lyrically, Rodrigo explores the concept of repeating the same activities and rituals with one's new significant other after a breakup, asking her ex "when you gonna tell her that we did that, too / she thinks it's special, but it's all reused." 
The pop-culture references, such as mentions of "watching reruns of 'Glee'" and listening to Billy Joel, might come across as a little corny or kitsch to some, but they ultimately work in the song's favor, adding a element of detail and specificity that makes the song feel all the more personal.
Her vocal performance is just as impressive and passionate as it was on "drivers license." Rodrigo still wears her influences on her sleeve, the likes of Lorde and early Billie Eilish very apparently serving as an inspiration to the young artist. These similarities are hardly detrimental to the song's originality, though, and they never come across as derivative. 
The second verse is even more hard-hitting than the first, shifting tone from nostalgic loneliness to bitter cynicism. "Do you call her, almost say my name? / 'Cause let's be honest, we kinda do sound the same," Rodrigo sings. "Another actress / I hate to think that I was just your type."
The stellar production also deserves a mention, starting off mellow and dreamy, then transitioning into a bombastic symphony of distorted drums and guitar. These sonic elements really make the song stand out and compliment the catchiness of the hook.
The bridge does seem to fall into the recent trend of keeping the instrumental from the chorus and changing up just the flow of the vocals, which robs the potential for a more unexpected and unique passage within the song. It isn't particularly harmful to the overall quality of the track, but it does leave something to be desired in terms of compositional creativity.
While the track might not reach the same viral popularity as her debut single, the wider range of sonic textures and refreshing lyricism ultimately add up to what feels like a slightly more impactful song than "drivers license." Olivia Rogrigo shows a lot of potential and I, along with many others, will be looking forward to what she accomplishes in the future.