Historic week for MSMS tennis team
Eupora
Four MSMS tennis players became district champions after their most recent wins. On Tuesday, April 6, the team competed in a district tournament, which determines who goes to the playoffs and state. 
Junior Vidhi Patel won her girl's singles match, and junior Sam Sun won his boy's singles match. Both of them will be advancing to state tournaments.
"I am quite happy with how I performed at my first district tournament, said  Sun. "My opponents had arguably better technique than me, but I was able to outplay them in the moment. Moving on to state, I know I will have to practice a lot more and polish up my technique if I want a chance to place at the state level. Also, I'm really proud of everyone else that played at district. We all played some great tennis, but still have a lot of  work to do before state."
Seniors Luke Bowles and Hardy Cook won their boys' doubles match and Juniors Destiny Van and Balee Wilson won girls' doubles. Van shared what it was like playing each match, and is optimistic for the team's future at state.
"Bailee and I played three doubles matches and we won two out of three," said Van. "I'm so proud to be on a team that works hard while balancing school work as well. Our coaches are so encouraging and help us reach our potential. Going to state as a team is an achievement that we all worked hard for. We're going to try our best and win as a team."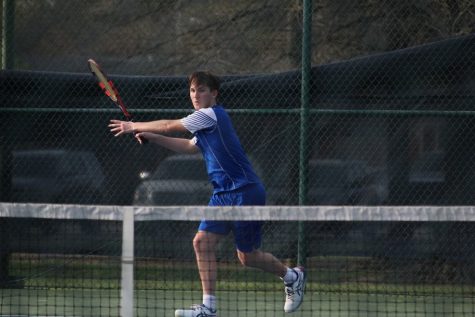 Seniors Sam Hill and Niyah Lockett ultimately lost their mixed doubles, but it was a tense tiebreaker match they didn't see coming. 
"Even though we didn't pull out a win, I'm very proud of how Sam and I played on Tuesday. This is only our second match as partners, and we went into three tiebreakers against a team who we didn't even come close to winning a week prior. Even through our mistakes, we constantly encouraged each other to keep our heads up and remain focused. We could have pulled out a win, but it just wasn't in the cards for us," said Lockett. "On a happier note, the Blue Waves tennis team is an amazingly resilient force. I could not be more proud of how far we've come in such a short period of time."
Junior Vidhi Patel shared her feelings on the match and the future of the team.
"It's exciting to know that a majority of our team is going to compete, not only in the playoffs but also at individual tournaments at state," said Patel. "It makes me happy to see the team succeeding the way we are, and I can't wait to see how the season ends."
Starkville
It has been a season of firsts for the MSMS team. For the first time in the MSMS tennis team's history, the team defeated Starkville High School with an overall score of 4-3 on Thursday, April 1. Many of the matches against Starkville were fairly close, resulting in four tiebreaker rounds.
Girls' doubles Destiny Van and Balee Wilson, mixed doubles Niyah Lockett and Henry Sanders, girls' singles Vidhi Patel and boys' singles Sam Sun won their matches while boys' doubles Luke Bowles and Hardy Cooke, boys' doubles Shanay Desai and Michael Lu and girls' doubles Kate McElhinney and Avery Short fell short in their tiebreaker rounds. 
Coaches Troy and Tonya King shared their thoughts on the team's performance against Starkville.
"Overall, the team played really good. I'm really pleased by the overall performance from the entire tennis team," Troy King said.
Van expressed her feelings before and during her doubles matches.
"Before each match, I am calm for the most part, but stepping on the court definitely brought my nerves up," Van said. "Once I start to hit, Balee and I have our fun and try out best. Sometimes we miss our shots, but we encourage each other and make up for it."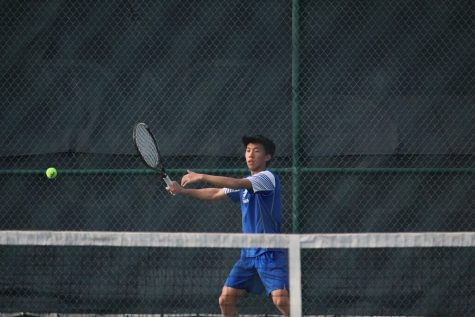 While senior Michael Lu lost his doubles match against Starkville, he remains concentrated on getting prepared for the upcoming matches.
"Even though Shanay and I lost, this match against Starkville was not extremely important compared to past district and future state matches, so I am just focusing more on improving and getting ready for future matches that will matter in getting the team to state," Lu said.
French Camp
Before their match in Starkville, the team defeated French Camp on March 30 with a score of 5-2. That victory made the team the undefeated district champions.
Going into the Tuesday match, coaches Troy and Tonya King wanted the team to continue the explosive performances they had during previous matches.
"Before the match against French Camp, I'd hope that they could come out and perform like they had in previous matches," Troy King said.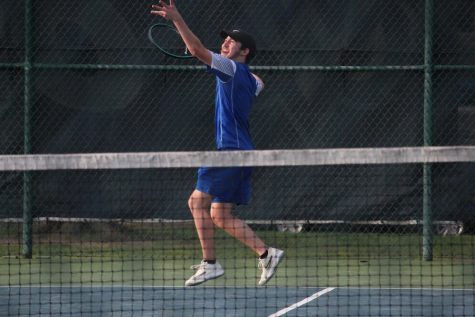 Since French Camp was their final district match, junior and captain of the tennis team Vidhi Patel wanted to keep both her and the team's winning streak alive while feeling the nervousness from the fierce competition.
"This was our last district match, and we were all determined to remain undefeated as a team. I hadn't lost a district match either, so I was happy to keep the winning streak," Patel said.
As their season continues, the coaches continue to reiterate the importance of improving and concentrating in each match.
"I have to keep reiterating staying focused through the entire match. There can't be any lapse of concentration.  We must remember not to take any team for granted. We need to play with more aggression throughout each match," Troy King said. "I'm hoping that they can get more free points on their serve. I'm also looking forward to them ending points at the net and capitalizing on breaking serve more often."