Lana Del Rey's "Chemtrails Over the Country Club" sees a return to form for the artist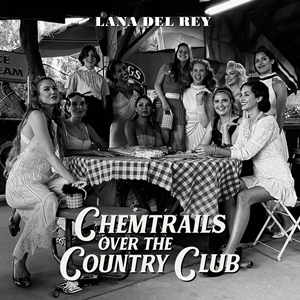 Lana Del Rey is back with her seventh studio album, "Chemtrails Over the Country Club," and its dreamy, nostalgic vibes are sure to entrance listeners. Carrying themes of self-reflection, looking back on the past and considering the uncertain future, the album is arguably Lana's most personal album to date.
The project also sees Lana return to the dreamy, romanticize-everything style she made a name for herself on, but left behind on her previous release, NFR. Despite the critical praise that album received, seemingly because of her willingness to forgo her signature style in favor of a more mature, self-actualizing tone, Lana is re-embracing her old nostalgic romanticism–only this time, it's with a more refined edge, as the direction of this album is much more focused than past releases. 
The album begins with a piano ballad led by an emotion-filled falsetto from Del Rey. The lyrics introduce the reflective tone of the album as the singer recollects the time she spent before becoming famous. "I felt free 'cause I was only nineteen," Del Rey sings, referencing the young age at which she released her first single and remembering her naïve attitude toward the music industry compared to her current, more jaded outlook on the business.
As the album progresses, themes of forlorn optimism and blissful reminiscence continue to develop through lines such as "I come from a small town, how 'bout you? / I only mention it 'cause I'm ready to leave LA," and "I left Calabasas, escaped all the ashes, ran into the dark / And it made me wild, wild, wild at heart." 
The LP is not without its share of lyrical missteps, though; namely, the chorus on "Yosemite," which features the painfully simple lines "We did it for fun, we did it for free / I did it for you, you did it for me." These brief moments of weak lyricism are hardly enough to derail the emotional momentum of the album, though, yet one can't help but wish for more compelling expression every so often.
In addition to Del Rey's songwriting, the dark, lo-fi production and instrumentation play into the melancholic tone of the album perfectly. Elements of country, modern pop and psychedelic music are fused into a refreshing mix of sounds and textures. There is a certain raw feeling to the album which matches the intimate storytelling of the project. 
"Chemtrails Over the Country Club" will likely please long-time fans of Lana Del Rey, and those who have remained skeptical in the past might be swayed by the earnest reflection and deeply wistful moods presented by the album. The project will certainly be seen as one of Del Rey's best and most intimate in the years to come.