Two MSMS students win Scholastic Art and Writing Awards national medals
Junior Amy Zhang and senior Shelby Tisdale submitted pieces to this year's Scholastic Art and Writing competition that contained deliberate messages. The messages were well received; both students won national silver medals.
Zhang described her piece, "Waste," as "a four-panel editorial cartoon highlighting the problem of political spending. It compares things that are widely seen as wastes of money to contextualize how much Michael Bloomberg spent on his failed presidential campaign."
Tisdale's poem, "Woodworking with Ashes," paints a picture of her hometown.
"This piece personifies Jackson, Mississippi, as I describe the suffering, damage and deprivation I've seen in our capital city," Tisdale said. "I hope it serves as a call for social justice in Jackson and other urban communities."
The medalists had differing reactions when they learned of their wins. While Tisdale had previous experience in the competition, Zhang was trying something new.
"I was surprised. This was my first year competing, and I'm proud that I got national recognition for my work," Zhang said.
Tisdale remarked that she felt anxious leading up to the announcement of the winners, as this year was her last opportunity to compete.
"I felt incredibly humbled to receive my fourth national medal. It was the affirmation I needed to know I want to pursue creative writing seriously in college," Tisdale said.
Tisdale felt that her success renewed her confidence as a writer.
"Writer's block often leads a writer to question whether she is capable of creating moving pieces. As I've been struggling to write recently, this award comes as not merely an addition to my resume, but a reminder of my capabilities," Tisdale said.
Zhang expressed her hope that her success this year would get people thinking.
"The award has motivated me to compete in the Art and Writing awards again next year. I see the medal as recognition for my creativity and hard work," Zhang said. "I'm also glad that the cartoon's message on political overspending will be seen by more people, which helps not only me, but all citizens and voters as well."
Tisdale described the influence religion, her family and other writers have had on her work."I believe my faith has been an integral part of my high school successes in the arts. Many of my pieces contain religious references, and I truly believe my best works are divinely inspired," Tisdale said. "Additionally, my family has been endlessly supportive of all my interests. I grew up in a house without internet or cable, which forced me to be creative, and much of my work is inspired by the American South and Mississippi writers such as Eudora Welty and Natasha Tretheway."
Tisdale and Zhang both encouraged other young artists to participate in the Scholastic Art and Writing Awards in the future.
"As long as your work is something you want to share with others, participating in the awards will be fulfilling," Zhang said. "For example, this was my first time drawing digitally, and I went through lots of trial and error before I figured out how to draw smooth lines and what my digital art style was. It was a lot of work, but it came together in the end because it served to send a political message. Basically, if you find an idea you're passionate about, the process of creation will be worth it."
About the Writer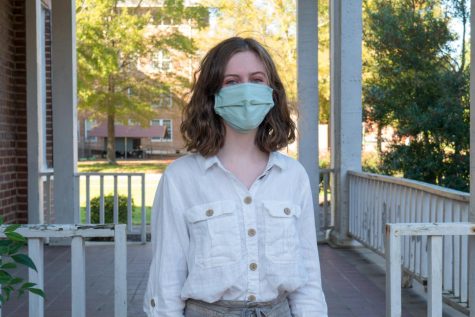 Jillian Snodgrass, Copy Editor
Jillian Snodgrass is a junior from Meridian, MS. They are very excited to express themself through writing for The Vision. Outside of school, they enjoy...